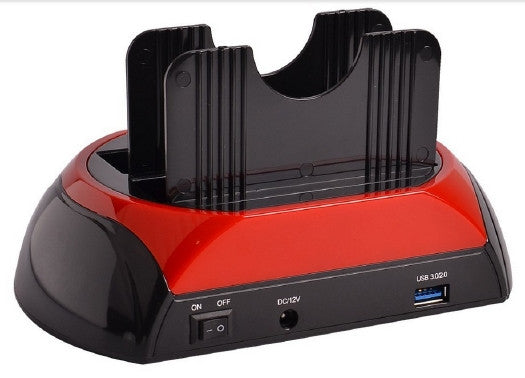 Sale
All-in-1 Dual HDD Docking Station with One Touch Backup for 2.5"/3.5" SATA/IDE H
$37.00
was $53.00
All-in-1 Dual HDD Docking Station with One Touch Backup for 2.5"/3.5" SATA/IDE HDD - USB3.0/2.0 - 875U3
*** NOTE - This is a NEW item! ***
Suggested Retail Price New: $69.99 ~ Price**: $48.00
Description:
This All-IN-ONE USB 3.0/2.0 docking station allows you to take any SATA or IDE drive and connect it to your computer Use many different drives you have around to access your files such as photos, music, movies and many more You can also use the docking station to clone, copy or backup your hard drives easily
Directly exchange data between 2 different types of HDDs (SATA and IDE), even for different size (3.5" and 2.5") of HDD You can copy or back up your files conveniently No need to buy 2 or more external cases - Saves your money! No more need to open the external case and remove several screws - Save your time!
Features:
- Supports all 2.5"/3.5" SATA/IDE Hard Disk Drive of any capacity
- Support hot swappable
- One Touch Backup function
- High Speed USB 3.0 data transfer rates
- Compatible with SATA I, SATA II, SATA II transfer rate up to 3Gb/s
Specifications:
Support the IDE/SATA disk read at the same time

Tool free assembly and disassembly, support hot plug

USB3.0 USB1.1 and USB2.0 SATA downward compatible with I and SATA II compatible

High speed USB30 data transmission rate up to 5gB/ seconds

25/35support IDE disk (3TB Max)

One touch backup function (only the USB port)

LED indicator to indicate that the power and the hard disk read and write state

100V~240V AC adapter (US plug) included

USB connectivity cable included

Supported system (Window98/Me/2000/XP/Vista/win7/8/10/Mac operating system 9X/10X/Linux
Package includes:
1 x HDD

USB 3.0/2.0 - 2.5"/3.5" SATA/IDE Dual HDD Cloning Backup Docking Station

1 x USB 3.0 Cable

1 x Driver's CD

1 x AC Power Adapter

1 x English/Chinese User's Manual
Note: Photos, description and specifications may differ from actual products
875U3 - Made in China
*************************************
Don't miss this deal!
*************************************
IRN: 762881205669-4800