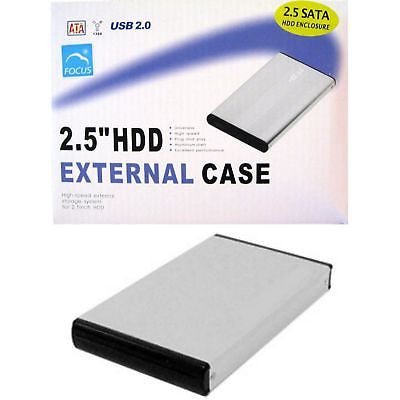 Sale
*** $ave 25% *** 2.5" USB 2.0 Aluminum HDD External Case
$16.00
was $28.00
2.5" USB 2 Aluminum External SATA Hard Drive Enclosure
Item: Hard Drive Enclosure
*** NOTE - This is a NEW item! ***
Suggested Retail Price New: $36.95 ~ Price**: $28.00
*** $ave 25% ***
$ave yourself $7.00 on this quality product.
Hurry limited quantities in stock!
Now only $21.00
Description:
External hard drive enclosures are the ideal solution for sharing files and applications between computers or making high speed back ups
Features and Specifications:
Supports 2.5" Serial ATA hard drives

USB 2.0 connection on your computer allows you to interface with Serial ATA on the enclosure

Serial ATA allows for a faster transfer rate than standard IDE rates

USB power adapter

Plug and play for any PC or Macintosh system

One LED to indicate power and status

6 month warranty
Package contents:
2.5" aluminum HDD external enclosure

Installation CD with drivers

User manual

USB 2.0 cable

Power adapter

SATA cable

Carrying case

Retail box
Note: Photos and/or description may differ from actual products Information from suppliers or packaging
NM25-SATAEC - Made in China
*************************************
Don't miss this deal!
*************************************
IRN: 693610360109 / 773070840721-2800