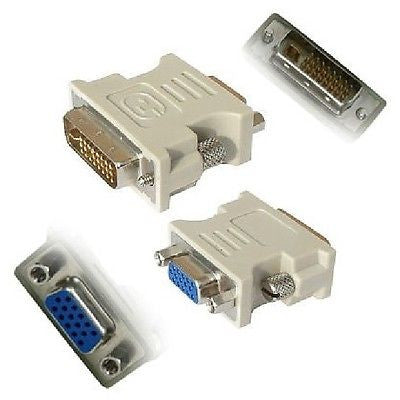 Sale
DVI Analog Male to VGA (HD-15) Female Adapter - (1 pc)
$6.00
was $9.95
Product:
DVI Analog Male to VGA (HD-15) Female Adapter - (1 pc)
Description:
The DVI to VGA converter adapter supports LCD monitor, HDTV, Projector, DVD and other home theater, etc .One 24+5 pin DVI-D Male connector at one end and one 15 pin VGA female connector at the other end.

This adapter can be used to change your DVI output connector to a regular VGA connector *.

Some video cards have a dual display capabilities. Use this adapter to allow dual displays. 

ATTENTION : * 1 - There are two types of DVI connections: DVI analog and DVI digital. If your DVI output is purely digital and does not support analog modes, this DVI adaptor will not work. 2 - Please check your DVI pins carefully to determine whether this DVI adaptor will fit your output connector.
Features and Specifications:
Package includes:
Note: Photos and/or description may differ from actual products. Information from suppliers or packaging. No diskette, CD/DVD, software or other accessories inlcuded.
Ada-DVI108  - Made in China  - Video Adapter - 995/600 - 14/16
IRN: 846568015120 / 888620000040-600
*************************************
Don't miss this deal!
*************************************