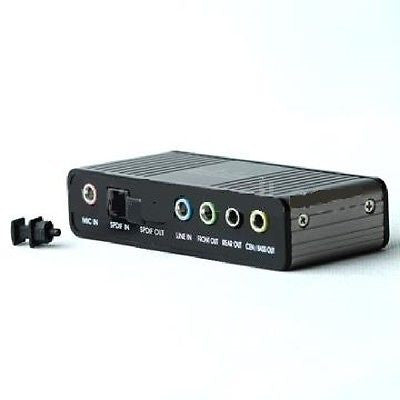 Sale
USB 2.0 to 5.1 Channel Speaker System Sound External Adapter
$40.00
was $49.95
USB 2.0 to 5.1 Channel Speaker System Sound External Adapter
Description: *** NOTE - This is a NEW item!
Suggested Retail Price: $49.95
Description:
This USB 2.0 to 5.1 Channel Speaker System Sound External Adapter supports AES/EBU,IEC60958,S/PDIF consumer formats for stereo PCM audio. Fixed 48KHz sampling rate for 5.1 channel playback. Support digital recording function with 32KHz,44KHz and 48KHz sampling rates. Supports analog recording function.

******************************
Features:
USB 2.0 to 5.1 Channel Speaker System Sound Adapter
USB 2.0 Full-Speed Specification

USB Audio Device Class Specification 1.0

USB HID Class Specification 1.1

IEC60958 spec compliant (consumer format S/PDIF input and output with loop-back support)

SCMS (Serial Copy Management System) compliant

Dolby digital audio streaming via S/PDIF out

6 channel DAC output with 16 bit resolution

Earphone buffer

2X interpolator for digital playback data to improve quality

2 channel ADC input with 16 bit resolution

Additional headphone output with selectable source and phone jack sense

Stereo MIC support with 33dB maximum capability

Recording source select from S/PDIF MIC, Line-in and summation of MIC, Line-in and front channel

Mic Line-in monitor from front channel (all channels optional) with volume control and mute function

Playback with soft-mute function

Support 48/441KHz sampling rate for both playback and recording

MCU / EEPROM / GPIO control via HID software interface

C-Media value added software (multi-channel positional 3D sound, AC-3 encoder, etc)

Embedded USB transceiver and power on reset circuit)

Microsoft Vista Premium Level Compliant

C-Media value added patent software driver

Xear 3D sound, Earphone Plus, Speaker Shifter

Environment sound effects

Room Size Mode

Graphic Equalizer

Karaoke Function

Dolby Digital Real-Time Content Encoder (Optional)

Compatible with XP, Vista

Product Dimensions: 88 x 39 x 19mm

Weight: 96g
Package Includes:
1 x USB 2.0 to 5.1 Channel Speaker System Sound Adapter

1 x CD Driver

1 x USB Cable
**********************************************************************************
This item will be ship via Canada Post on the Saturday (at the latest) following the reception of payment!
Don't miss this deal!
IRN: 120251014257-4000