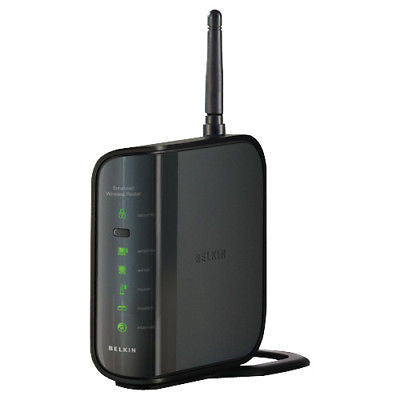 Belkin N150 Enhanced Wireless N Router
$40.00
Belkin N150 Enhanced Wireless N Router
Description: *** NOTE - This is a new item!
Suggested Retail Price: $59.99
Overviews
Belkin's N150 Enhanced Wireless Router is perfect for setting up a wireless network that has the range to easily cover a home or office The N150 offers speeds ideal for handling applications that take up more bandwidth than simple emailing and Web-surfing

Connecting the N150 Enhanced Wireless Router to your cable or ADSL modem lets you share your broadband Internet account with all your networked computers Now you can quickly and efficiently exchange documents, share resources, and stream digital music throughout your network For the most reliable network performance, and to achieve coverage ideal for a home or office, pair this Router with the Belkin Enhanced USB Adapter (sold separately)

The combination provides a wireless experience perfect for sharing your Internet connection, surfing the Web, and demanding network applications The Enhanced N150 range is 80211b and g certified and based on the 80211n technology This range will give you 80211n performance up to 150Mbps at an even more affordable price

The N150 Enhanced Wireless Router's vertical enclosure is space-efficient with two built-in external antennas that provide a wireless range of 1,000 feet and easily cover an apartment or small office Six LEDs for Power, Wired, Wireless, Modem, Security, and Internet lets you know the status of your network at a glance, making it easy to troubleshoot any problems

In addition to surfing the Internet, checking emails, and chatting with friends, Wireless G+ provides enough bandwidth to transfer large photo and music files, and stream videos without waiting for them to buffer You can also share networked peripherals such as a Wi-Fi printer, hard drives, and DVDs

In addition, the Router has four 10/100 Ethernet ports at the back, giving you the option to plug in for a steady and secure fast connection running at 100Mbps

Thanks to the strong built-in security, including support for WPA, WPA2, Wi-Fi Protected Setup, and 64- and 128-bit WEP encryption, you will be protected from hackers and intruders trying to gain access to your sensitive files Setting up security is simple, too: just push the Wi-Fi Protected Setup button located on the front of the Router The Router also supports VPN for making secure connections between the home and office

Belkin designed the N150 Enhanced Wireless Router for ease of use and it's backed by a 1-year warranty by BELKIN
Features
The Enhanced N150 range is 80211b/g certified and based on the 80211n technology

Specifications: LEDs Security, Wireless, Wired, Router, Modem, Internet

4 Wired Ethernet Ports

Link Rate Up to 150Mbps in 40MHz Channel Mode

Range Up to 300m

Security Wi-Fi Protected Setup, 256-bit WPA/WPA2-Personal, 64-bit, 128-bit WEP encryption

VPN Support PPTP IPSec pass-through

Bandwidth 20 MHz and 20/40 MHz auto

Compliant Standard IEEE 80211b/80211g (WiFi Certified)

Firewall NAT (Network Address Translation), SPI (Stateful Packet Inspection)

Hardware Interface Type 5xRJ45 10/100Mbps (4 LAN, 1 WAN)

Humidity Operating : 10 ~ 85%; Storing : 5 ~ 95% non-condensing

IP Sharing Method Network Address Translation (NAT)

ISP Protocols Supported Dynamic, Static, PPPoE, PPTP, Telstra Bigpond, L2TP, Multi-PPPoE

LEDs Security, Wireless, Wired, Router, Modem, Internet

Link Rate 150Mbps (In 40Mhz Mode)
Package Includes
Enhanced Wireless Router

Quick Installation Guide

User Manual on CD-ROM

Power Supply

RJ45 Ethernet Networking Cable
System Requirements
Windows 2000, XP, Vista

Mac OS X v104 Mac OS X v104 or 105 for Setup Assistant

OS with TCP/IP support for normal operation

Broadband Internet connection with RJ45 (Ethernet connection)

At least one computer with an installed network interface card
Part # F6D4230tt4
Made in China
***********************************************************************
This item will be ship via Canada Post on the Saturday (at the latest) following the reception of payment!
Don't miss this deal!
IRN: 722868723548-4000