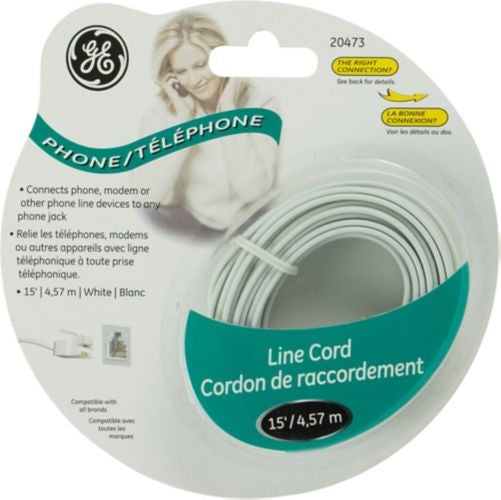 Sale
15ft. GE Phone Cord - White - 20473
$3.00
was $3.99
Product:
15ft. GE Phone Cord - White - 20473
Description:
GET CONNECTED! - 50ft. GE Phone Cord - White
Connects phone, modem or other phone line devices to any phone jack
Features:
Connects a telecom device to a wall jack.

Plug one end into wall jack and the other end into the telecom device.
Specifications:
Manufacture JASCO

Brand: GE

Product: Line Cord

Product Code: 20473

Lenght: 15 feet (4,57M)

Color: White

Compatible with all brands
Package includes:
1x 15

ft. GE Phone Cord - White
Note: Photos and/or description may differ from actual products. Information from suppliers or packaging.
20473 - 008418 - Made in China - Phone Line Cord - NEW - 399/300 - TGCP - 14/16
IRN: 030878204736-300
*************************************
Don't miss this deal!
*************************************