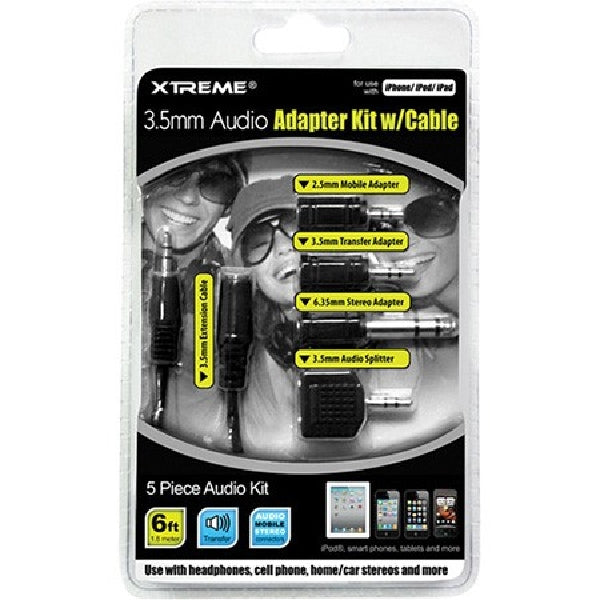 Sale
Xtreme 3.5mm Audio Cable with Adapter Kit - 5 Pieces - 50655
$8.00
was $9.99
Product:
Xtreme 3.5mm Audio Cable with Adapter Kit - 5 Pieces - 50655
Description:
Xtreme 3.5mm Audio Adapter Kit w/ Cable is great for making your 3.5mm jack fit almost any other audio jack. This 5 Piece Audio Kit has a 6.35mm plug, 2.5mm plug, 3.5mm plug, extension cable included (m-f) and audio 3.5mm (m) to (f) transfer. Great for any of your audio needs.
The Xtreme Cables 3.5mm Audio Adapter Kit with Cable comes with a 6.35mm stereo plug to 3.5mm adapter, audio 3.5mm splitter to share the connection, audio 3.5mm male to 3.5mm female transfer adapter, and mobile 2.5mm to 3.5mm adapter. The adapters let you connect any 3.5mm audio device to two pairs of headphones. This allows you to watch a movie and listen to music with a friend.
Features:
5.0' audio, 3.5mm extension cable included (male to female)

6.35mm plug connects amplifiers and stereo equipment

Convert a single 3.5mm port to two 3.5mm plugs

Transfer audio from any 3.5mm device

Connects to device with a 2.5mm stereo jack

Works with smartphone, tablets, netbooks, and more
Specifications:
3.5mm Extension Cable 6'

4 Audio Adapters: 2.5mm, 3.5mm, 6.35mm, splitter

Black
Package Content:
3.5mm Cable

2.5 mm Adapter

3.5mm Adapter

6.5mm Adapter

3.5mm Splitter
Note: Photos and/or description may differ from actual products. Information from suppliers or packaging.
50655 - Made in China - Adapters - NEW - SRP: $9.99 - Our Price: $8.00 - TGCP - 14/16
IRN: 805106506551-800
*************************************
Don't miss this deal!
*************************************