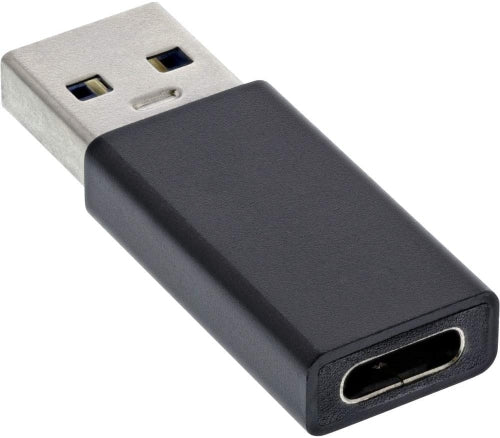 Sale
USB-C Type-C (USB 3.1) Female to USB 3.0 Male Adapter - Black
$7.00
was $8.00
Created by TiGuyCo Plus
Product:
USB-C Type-C (USB 3.1) Female to USB 3.0 Male Adapter - Black
Description:
Take these lightweight USB-C to USB adapter with you anywhere you go! You can store securely in backpack, purse, pocket, briefcase, desk drawer or anywhere else you desire.
Superfast Transmission

Fast Charging

Travel-Ready Portability

Data Sync (OTG)

Widely Compatibility
Features:
USB C TO USB ADAPTER
This is a USB C FEMALE to USB MALE adapter, used to turn all you USB-A ports of laptops,chargers,or other devices into a USB-C port,gives you the ability to connect USB-C peripherals to devices with USB-A ports.
REVERSIBLE USB3.0 TRANSFER SPEED
Supports double-sided USB 3.0 5GB/s superspeed data transfer that plug in either way up, while others can only support one side, the point is that you don't know which side you inserted; other brand's wrong side just provides 1/10 transfer speed.
SUPERSPEED DATA TRANSFER
USB 3.0 (USB 3.1 Gen 1)port, up to 3A, enables up to sync and display movies or music in real time thanks to a 5Gbps transfer speed, approx 10x than USB 2.0; Also, you can edit video in camera directly via port instead of downloading files
SUPERRIOR DURABILITY
Made of Premium aluminum alloy housing with specular percision process,enables plug in/out again and again. Tested and inspected meet USB Standards, fit for USB 3.0 / USB 2.0 devices, built-in 56KΩ pull-up resistor protects your devices from damage.Internal PCMA adopts EMI proof process, more stable performance.
EASY OPERATION AND PORTABILITY
Easy to use,just PLUG and PLAY, no driver required. This USB C TO USB 3.0 adapter has the advantages.
Specifications:
Compact Size USB-C USB 3.1 Type-C Female to USB 3.0 Male Port A Card Adapter Black
Plug & play

USB 3.1 Type C female Connector to USB3.0 A male Data Adapter it helps the user get a USB-C Port via USB3.0 portupdate the laptopdesktop etc the device .

Type C connector is the new design for USB 3.1.

Reversible Design for Type C connector.

Reversible plug orientation & Cable direction.

High performance chip more stable

Color Black
Please Note:
    This USB-C to USB adapter can charge phones and tablets but MAY NOT charge a laptop.
    This USB C to USB 3.0 adapter CANNOT send HDMI, VGA or other audio & video signals.
    10Gbps is the theoretical Max transmission speed, the final actual speed also depends on output & input device and cable, etc.
Package includes:
1x USB-C Type-C (USB 3.1) Female to USB 3.0 Male Adapter - Black
Note: Photos and/or description may differ from actual products. Information from suppliers or packaging. No other accessories inlcuded.
ADA-USB3.1TYPE-C-USB3.0-F/M - Made in China - Adapter - 999/800 - 16/20
IRN: 804039002499-800
*************************************
Don't miss this deal!
*************************************