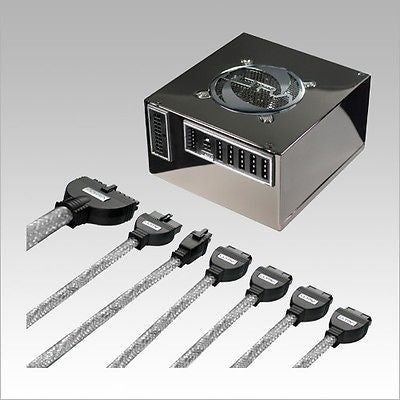 ULTRA X 400 Watt ATX Power Supply with 9 X-Connect Cables
$95.00
ULTRA X 400 Watt ATX Power Supply with 9 X-Connect Cables
*** NOTE - This is a NEW item! ***
Suggested Retail Price: $139.95 ~ Price**: $95.00
World's First Fully Modular Power Supply! - X-Connect Marks the Power Supply Revolution
Ultra does it again! The unique X-Connect power supply - the first in the world to have a fully modular configuration - delivers 400 Watts of Ultra-reliable energy and eliminates cable clutter X-Connect's molded cable core allows you to connect only the cables you need!

Each cable is UV reactive, made of the highest quality shielded material, and has undergone the most rigorous testing in the industry Ultra's modular cables are the finest in the world and offer the best conductivity, stability, reliability and durability Decked out in an attractive high-gloss finish, X-Connect boasts two hard-working, onboard 80mm cooling fans and has overvoltage and overheating protection to ensure safe, continuous operation

This ingenious, trend-setting power supply is now available at an incredibly low price X-Connect - the world's first fully modular power supply!
High-Gloss Mirror Finish

Modular Cable Connection System

UV Reactive Shielded Cables

Dual 80mm Fans

Low Acoustic Noise

Power Protections:
Short Circuit, In-rush Current,


Thermal Overload, Over-Temperature,




Over-Voltage,Over-Current, Under-Voltage
Connectors

1x 20-Pin Main Power

1x 6-Pin AUX (Xeon) Power

1x 4-Pin 12V (P4)

6x 4-Pin Peripheral

1x Floppy
Made in China
** Indicated price is before taxes reserves the rights to discount the indicated price on the store invoices or receipts before calculating the taxes
*****************************************************************************
Don't miss this deal!
IRN: 1022769315904-9500