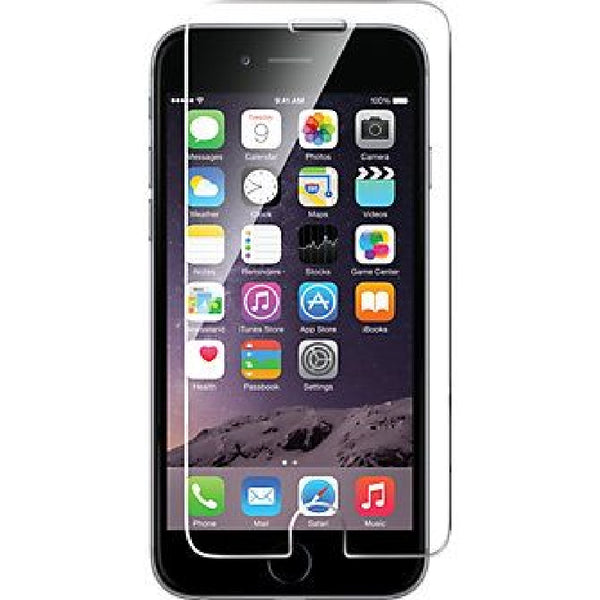 Sale
Tempered Glass Screen Protector for iPhone 6-6S 4.7" - Clear
$5.00
was $6.00
Product:
Tempered Glass Screen Protector for iPhone 6-6S 4.7" - Clear
Description:
High-Quality Tempered Front Screen Glass Protector

If you want premium protection for the delicate screen on your iPhone 6/6S to look no further than the Tempered Glass Screen Protector. This display protector is made of shatter-proof glass, comes with a smudge-proof coating, and application is a snap. The end result is a crystal clear view of your screen - without the hassle of bubbles or dust getting in the way.

Due to the curved design of these Phone screen protectors are slightly smaller than the actual screen size. We made it smaller to cover the flat portion of the screen and leave the curve edge. Please align well the screen protector to cover the flat portion of the screen.

The item is made to protect the LCD from damage and scratches with specially processed glass that has been reinforced to increase shock absorbency. The entire surface of the protector is transparent and the back side is covered with a strong silicon adhesive. There are no gaps between the LCD and the protector which means the touch screen's sensitivity is unaffected.
Features:
The tempered, processed shield provides extensive protection from outside damages and scratches, including sharp objects like knives and keys. And it's laser-cut for a perfect fit.
The shatter-proof film minimizes damage when the screen is broken and helps to reduce damages in general. Study glass improves protection and durability compared to flimsy plastic protectors.
Rounded edges conform better to the cellphone as well as allow the protector work with slim cases and accessories. Glass Screen Protector's are fully compatible with iPhone 3D Touch technology.
Our screen protectors are manufactured from the highest quality material. They are mad from the latest high-tech manufacturing equipment.
Highly durable, and scratch resistant - 9H+ hardness, protects your screen from scratching and tearing effectively.
Specifications:
The glass is only 9H+ thick - your screen will retain full-touch sensitivity.

100% tempered glass gives stronger protection, even resists sharp objects.

Shatter-proof glass minimizes damage if the device is dropped or the screen breaks.

Keeps the earpiece speaker, camera, light sensor and home button totally unobstructed.

With an industry-high 9H hardness, this protector offers superior protection against scrapes.
Package includes:
1x Tempered Glass Screen Protector for iPhone 6-6S 4.7" - Clear
Note: Photos and/or description may differ from actual products. Information from suppliers or packaging. No accessories inlcuded.
26806 - Made in China - Screen Protector - NEW - 699/600 - TGCP - 14/16
IRN: 695434268067-600
*************************************
Don't miss this deal!
*************************************