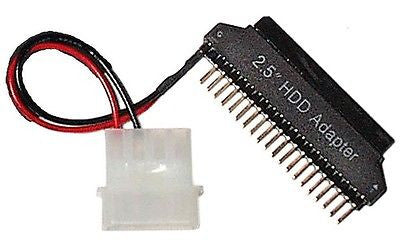 TechCraft IDE 2.5" Hard Drive to 3.5" IDE(UNV25IDE)
$12.00
TechCraft IDE 2.5" Hard Drive to 3.5" IDE(UNV25IDE)
Description: *** NOTE - This is a new item!
Suggested Retail Price: $24.99
Do you have 2.5" IDE hard drive around that you would like to use in you desktop or tower systems? Look no more, this simple adapter will make your life easy!

The UNV25IDE adapter by TechCraft will allow you to convert any 2.5'' IDE notebook hard drive to work in your 3.5" hard drive environement
Product Features:
TechCraft IDE Notebook Drive Converter

Allows a 2.5" Notebook IDE Hard Drive with a 2.5" Female Connector to Fit and Run in a 3.5" Bay
Package Content:
Made in China
Don't miss this deal!
IRN: 773070826756-1500