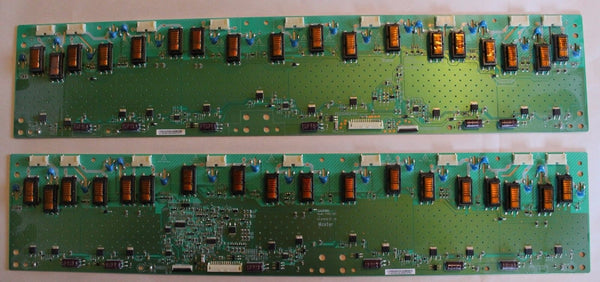 Sale
Sanyo and Vizio 19.55T05.003/19.55T05.004 (19.55T05.003) Inverter Kit - 2 Parts
$45.00
was $59.99
Product:
Sanyo and Vizio 19.55T05.003/19.55T05.004 (19.55T05.003) Inverter Kit - 2 Parts
Description:
This part can be use for the following TV:
Sanyo TV DP55441 (P55441-03 Chassis) and Vizio TV E552VLE LAUALUBN Repair Part
This part is reclaimed from new TVs damaged during freight shipping or sourced from certain TV parts manufacturer to meet demand.
The parts are "reclaimed" or "harvested." - Technically, we can't say they're "new" because they don't have an OEM number and we didn't purchase them from the manufacturer. But, they're not "used" because they were reclaimed them from new TVs damaged during shipping. The parts may also have been sourced from various "new" TV parts direct from manufacturers.
The bottom line - this part is sold as a used part(s)...
Features and Specifications:
This kit includes 2 parts: 19.55T05.003 & 19.55T05.004
Part Type: Backlight Inverter, Inverter Board, Inverter Kit
Part Number: 19.55T05.003/19.55T05.004
Part Usage: LCD
Board Number(s): 19.55T05.003, 19.55T05.004, 4H.V2928.131/B, 4H.V2928.121/B, V292-201, V292-201
Panel Sticker Number: T550HVN02.0
Panel Manufacturer: AU Optronics
Notes, Comments & Additional Information: Make sure that you check the part number whenever possible. Often times there are TV models that use more than one set of parts and/or panels.
Brands: Sanyo, Vizio
Important Message: This kit includes 2 parts: 19.55T05.003 & 19.55T05.004
TV Part Types: Backlight Inverter
TV Models:
Sanyo - DP55441 P55441-03

Vizio - E552VLE LAUALUBN
Package includes:
1x Inverter Kit for Sanyo and Vizio - 2 parts
Note: Photos and/or description may differ from actual products. Information from suppliers or packaging.
19.55T05.003 - Made in China -  - USED - 5999/4500 - TGCP - 14/16
IRN: 666628026503-4500
*************************************
Don't miss this deal!
*************************************