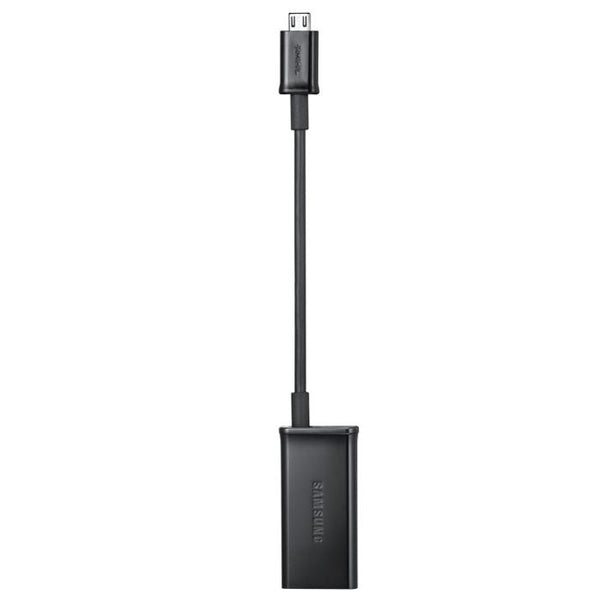 Sale
SAMSUNG HDTV 1080p Adapter Micro USB Type
$28.00
was $43.95
SAMSUNG HDTV 1080p Adapter Micro USB Type
*** NOTE - This is a NEW item! ***
Suggested Retail Price: $43.95 ~ Price**: $28.00
Description:
Samsung® 5-pin HDTV Adapter Compatible Devices Stream videos, music and other multimedia from your phone to an HDTV or monitor The perfect solution for a household with multiple Samsung smartphones, the HDTV Adapter (5 Pin) w/ HDTV Adapter Tip will assure you have a compatible adapter for any Samsung MHL-enabled smartphone Newer smartphones are switching from a 5pin to an 11pin micro USB port to support added features
This accessory provides users the ability to stream content from phones, regardless of if they have a 5pin or 11pin micro USB port, to an HDTV with the HDTV Adapter Tip The HDTV Adapter supports HD signals up to 1080p In order to function, the Adapter also needs to be connected to a power source via the Micro USB port on the adapter itself
Features:
Converts Samsung Galaxy S2's micro USB port to a standard HDMI output for playing back HD videos on a compatible TV

Micro USB input lets your charge your device while in use

Watch content that's stored or streaming on your Galaxy S II LTE, such as videos, on your TV with this HDTV adapter
Specifications:
General:
Model EIA2UHUNBECCAN

Video: 1080p

Cable Type: Micro USB (5-pin) to HDMI

Compatibility: MHL-Enabled Samsung Phones

Color Black

UPC 8806071589473
Compatibility Information:
Samsung Galaxy S II Epic, Infuse 4G

Samsung Captivate Glide

Samsung GALAXY Nexus

Samsung Galaxy Tab 2 70

Samsung Galaxy Tab 101

Samsung Galaxy Note II

Samsung Galaxy Tab 7
Package contents:
1x

HDTV Smart Adapter (5pin)

Manual
Note: Photos may differ from actual products. Some boxes may be unsealed but the product is brand new!

EIA2UHUNBECCAN - Made in Korea
*************************************
Don't miss this deal!
*************************************
IRN: 806071589471-2800