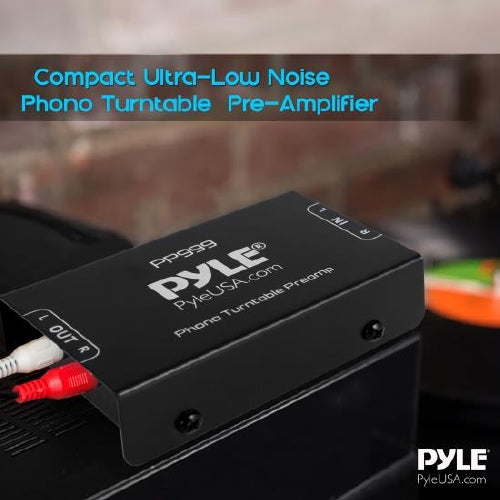 Sale
Pyle Compact Phono Turntable Preamp - Ultra-Low Noise Audio Pre-Amplifier with 12-Volt Power Adaptor - PP999
$30.00
was $36.00
Product:
Pyle Compact Phono Turntable Preamp - Ultra-Low Noise Audio Pre-Amplifier with 12-Volt Power Adaptor - PP999
Description:
The Pyle Pro PP999 Phono Preamplifier is a compact device that allows you to connect a turntable to a standard line input on a receiver, amplifier, mixer, etc. The PP999 features RCA inputs and outputs, and includes the 12VDC power adapter.
Benefits
Converts Phono Signals to Line Level Signals

Dedicated RCA Connectors
This electronic preamplifier stands up to the test and will provide you with serious sound performance.
The PP999 is perfect for bringing your studio equipment's phono-level output to a more suitable and manageable line-level output. It'll take your audio signal, amplify its strength and prepare it for further processing by your receiver or amplifier. Preamps technically provide voltage gain to your desired equipment and are key to assisting the signal source. The ultra-low noise audio conditioning circuitry allows the preamp to boost audio to levels that are more manageable for various types of audio equipment.
You'll find it easier to adjust the recording level volumes of different sources and instruments alike. You should position your preamp close to the source to reduce unwanted noise and interference. Preamps can sometimes come built into the stereo equipment, but if that's not the case, the PP999 is an easy install, wise choice and great addition to any musician or producer. Take your sounds and audio production skills to the next level with the PP999 Preamplifier.
Features:
Pro Audio Phono Turntable Preamp

Compact Record Player Preamplifier

Simple Electric Plug-in Design

Ultra-Low Noise Audio Operation

Dedicated RCA (L/R) Audio Connectors

Converts Phono Signals to Line-Level Audio Signals

Integrated Circuitry to Accommodate Magnetic Pickups

Universal Compatibility for Turntables, Mixers, Audio Equipment

For On-Stage & In-Studio Performances
Specifications:
Load Impedance: 10K Ohms

Output Level: 2V

Reference Voltage: 1V

S/N Ratio: 70 dB (A-WTD)

T.H.D. 0.08 for 1 KHz 3 mV Input

Frequency Response: 20-20kHz (+/-2dB)

Input Sensitivity / Impedance: Phono - 3 mV / 50K Ohms

Construction Material: Engineered Metal Alloy Housing

Power Supply: 120V 60Hz (DC12V Power Adapter)

Dimensions (L x W x H): 3.54'' x 2.13'' x 1.02'' -inches

Weight: 0.74 lbs

.
Package includes:
Turntable Pre-Amp

Power Adaptor
Note: Photos and/or description may differ from actual products. Information from suppliers or packaging.
AVPP999 - Made in China - Amplifier - NEW - 4699/3900 - TGCP - 14/16
IRN: 068888717083-3900
*************************************
Don't miss this deal!
*************************************