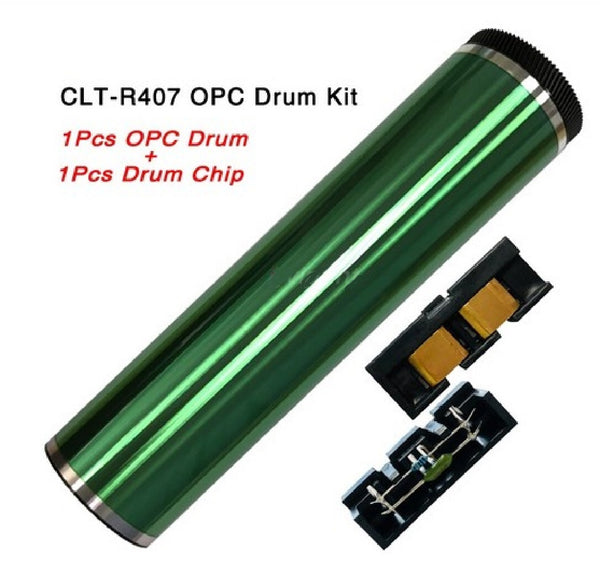 Sale
OPC Drum Chip Kit For Samsung CLT-R407 - OPC Drum + Drum Chip
$79.00
was $89.99
Product:
OPC Drum Chip Kit For Samsung CLT-R407 -  OPC Drum + Drum Chip
Description:
OPC Drum + Drum Chip
C326 Compatible CLT-R407 CLT-R409  407 409 OPC Drum For Samsung CLP310 CLP315 CLP320 320n 325 325w 326 CLX-3185 3185n 3185fn 3186 3186n 3186fn CLX-3175
***Important: No return, exchange or refund!
Features:
Model Number: Long Life CLT-R407 CLT-R409 OPC Drum + Drum Chip
Drum Code: For Samsung CLT-R407 CLT-R409
Material: Aluminum+UCL+CGL+CTL
Specifications:
Compatible machine models:
For Samsung CLP-310 CLP-315 CLP-315W CLP-320N CLP-321N CLP-325 CLP-325W CLP-326

For Samsung CLX-3185/3185n/3185fn/3185/fw CLX-3186/3186n/3186fn

For Samsung CLX-3170 CLX-3175 CLX-3175n CLX-3175fn

For Samsung  CLP-300 CLP-300N CLX-2160 CLX-2161 CLX-3160N CLX-3160FN

For Xerox Phaser 6110 6110mfp
OPC Life: 2-4 Cycles, Long Life
Page Yeild: 32000 pages with 5% coverage rage by A4 paper or letter
Tips:
·Store in a day,dark,cool place where temperature does not exceed 32°c(90°F) 
·Store away from chemicals and chelicalfumes.
·Do not touch photoconductive surface.
IMPORTANT:
·This drum should be installed only by a properly tranied technician. 
Package includes:
***Important: Due to its nature and consumer self installation - No return, exchange or refund is possible for this product! 
Note: Photos and/or description may differ from actual products. Information from suppliers or packaging. No accessories inlcuded.
407DK  - Made in China - Toner - NEW - 8999/7900 - TGCP - 16/18
IRN: 140407040176-7900
*************************************
Don't miss this deal!
*************************************