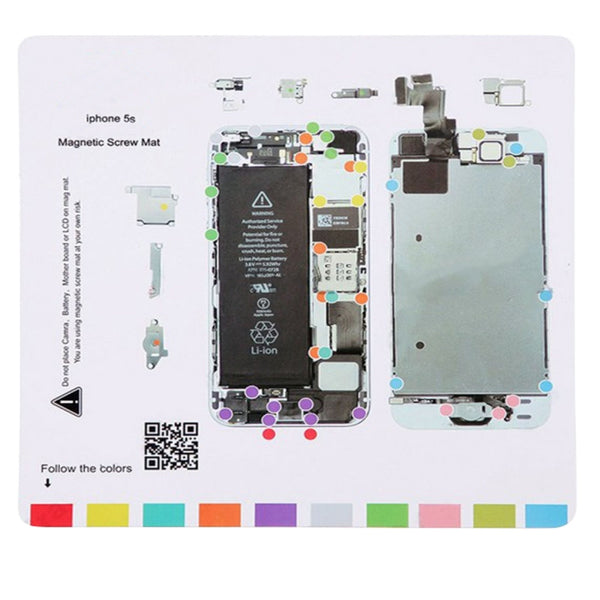 Sale
iPhone 5S Magnetic Screw Mat - White
$8.00
was $10.99
Product:
iPhone 5S Magnetic Screw Mat - White
Description:
The iPhone 5s Magnetic Screw Mat for Professionals is the solution you need for a repair that is less frustrating, faster, and you do not lose any screws or small parts.  The screw Mat will magnetically hold your iPhone 6 screws and small parts while keeping them organized for you.
This handy mat will help you keep track of the order in which the parts came out of the iPhone 6 and therefore the order that you will need the parts for re-assembly.  Let the iPhone 5s Magnetic Screw Mat save you time, frustration and money - not having to replace lost parts. 
Features:
This Magnetic Screw Chart Mat helps you to keep all your screws secured, ordered and ready for asccess!.

Brand new iPhone 6 Magnetic Screw Mat for Professionals

Magnetic Mat to prevent loss of screws and parts 
Specifications:
Item Name: Magnetic Screw Mat for iPhone 5s

Item Color: White

Condition: Brand New

Model Name: iPhone 5s Magnetic Mat

Features Size: 20cm x 20cm (8" x 8")

SKU: 35196
Package includes:
1x Magnetic Screw Mat for iPhone 5s
Note: Photos and/or description may differ from actual products. Information from suppliers or packaging. No accessories inlcuded.
35196 - Made in China - Tool - NEW - 1099/800 - TGCP - 14/16
IRN: 695434351967-800
*************************************
Don't miss this deal!
*************************************