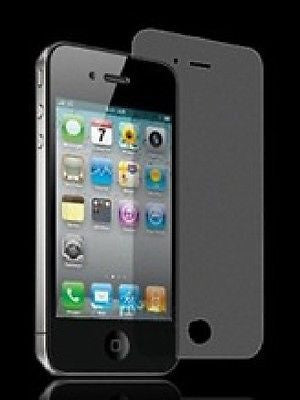 iPhone 4 - 4s Matte Screen Protector
$6.00
iPhone 4 - 4s Matte Screen Protector
Description: *** NOTE - This is a NEW item!
Suggested Retail Price: $8.99 ~ Price**: $6.00
 

This iPhone 4/s matte screen protector is the perfect choice for your Apple iPhone 4/ 4s It is designed to custom fit the iPhone 4, while provides scratch protection from outside elements without the need of bulky cases

This iPhone 4 matte screen protector is made from the most durable material that covers and shields your device, keeping it as pristine as the day you took it out of the box The precision pre-cut invisible protectors can be applied directly to your iPhone 4, without leaving any bubbles or residues when you remove it

Easy to apply and designed to offer full body and/or screen protection to your device while letting the beauty and design of the Apple iPhone shine through, get this invisible full body iPhone 4 skin/screen protector now!

 
Product Features:
Customer design to protect your iPhone 4
Exceptionally clear and virtually indestructible, you can show off your gadget and use it without fear of scratching
Anti-scratch coating provides instant protection from fingerprints, scratches and dust
Easy of Install The improved pliability and adhesive facilitates easier installation
Easy to remove with no sticky residue
Soft cleaning cloth - to remove dust or debris from your screen before applying the Screen Protector
Fully covers the entire front face for MAXIMUM PROTECTION
Specifications:

Weight: 22g
Size: 16x10x01 cm
Package contents:
1 x Protective Screen Guard

1 x Micro-Fiber Cleaning Cloth
HYIPH4MA - Made in China
** Indicated price is before taxes reserves the rights to discount the indicated price on the store invoices or receipts before calculating the taxes
*****************************************************************************
Don't miss this deal!
IRN: 658792542309-600