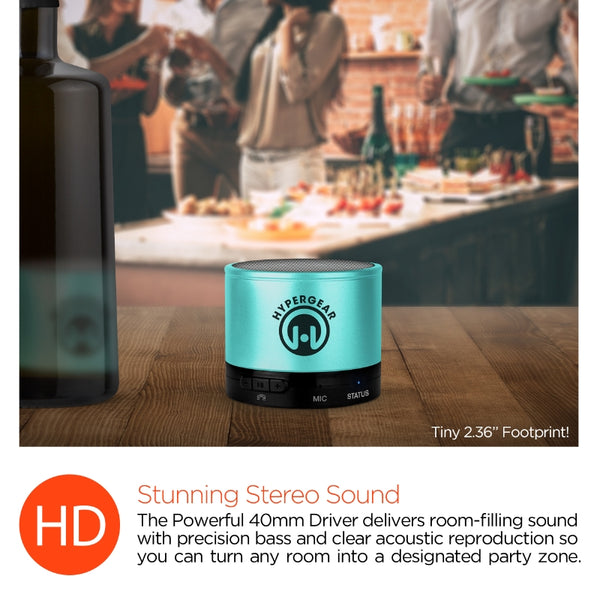 Sale
HyperGear MiniBoom Wireless Speaker - Teal - 14327
$14.00
was $23.00
Product:
HyperGear MiniBoom Wireless Speaker - Teal - 14327
Description:
Designed and engineered to deliver superb sound, the HyperGear MiniBoom is the perfect wireless speaker for enjoying your music anywhere you go. Compact and portable, the MiniBoom boasts amazing sound for up to 3 hours of playback time.* HyperGear's MiniBoom Speaker: your wireless sound system.
Features:
• HD Stereo Sound
• Precision Bass
• Hands-free Speakerphone Function
• Extended Battery Life
• Aux-in Compatible
• Ultra-Portable
• Bold Color Options
• Limited One Year Warranty
Specifications:
• Speaker Output: 3W
• Bluetooth Version: 3.0 + EDR
• Play Time: Up to 3 Hours*
• Standby Time: 100 hours
• Bluetooth Range: Up to 33ft/10m (unobstructed)
• 2.36 x 2.36 x 1.96 in | 230g
Compatibility:
Amazon
 
Amazon Fire ,
Apple
 
iPhone 5 ,iPad 4 ,iPad Mini ,iPhone 5c ,iPhone 5s ,iPad Air , iPad Mini 2/3 ,iPad Air 2 ,iPhone 6 Plus ,iPhone 6 ,iPhone 6s ,iPhone 6s Plus ,iPhone SE ,iPhone 7 ,iPhone 7 Plus ,iPhone 8 ,iPhone 8 Plus ,iPhone X ,iPhone XR ,iPhone XS ,iPhone XS Max ,
BlackBerry
 
Storm II / 9550 ,Flip 8220/8230 ,8900 ,Curve 8520 / 8530 ,Curve 9360 ,Curve 9380 ,Bold 9790 ,Curve 9370 ,Curve 9310 ,Z10 ,Q10 ,Z30 ,Tour 9630 ,Classic ,
HTC
 
Nexus One ,Trophy ,Droid Incredible 2 ,Inspire 4G ,Merge ,myTouch 4G ,Sensation 4G ,Wildfire ,Wildfire S ,Titan ,Rhyme ,Sensation XE ,Vivid ,Rezound ,One S ,Windows Phone 8X ,One X ,Evo 4G LTE ,Droid DNA ,One SV ,One VX ,One ,One Mini ,EVO 4G ,EVO Shift 4G ,HD2 ,Desire ,EVO 3D ,HD7 ,One (E8) ,One Remix/One Mini 2 ,One M8 ,
LG
 
Lotus ,Revolution ,Thrive ,Optimus M MS690 ,Optimus S LS670 ,Optimus T P509 ,Optimus U US670 ,Optimus V VM670 ,Select MN180 ,UX-300 ,Vortex VS660 ,Revere ,Thrill / Optimus 3D ,Optimus Hub ,Marquee ,Ignite ,Nitro HD ,Optimus 2 ,Optimus LTE ,Optimus Slider ,Optimus Sol ,Optimus Sol ,Optimus One ,Spectrum ,Connect 4G ,Venice ,Intuition ,Nexus 4 ,Lucid ,Lucid 2 ,Optimus F7 ,Optimus Zone ,Enact ,G2 ,Nexus 5 ,LG G3 ,LG G5 ,LG G4 ,
Motorola
 
Defy MB525 ,Droid 2 Global ,DROID BIONIC XT865 ,Droid Pro A957 ,Droid RAZR ,DROID RAZR MAXX ,DROID 4 ,Motoluxe ,Photon Q ,Droid RAZR HD ,Droid RAZR MAXX HD ,Droid RAZR M ,Droid Mini ,Droid Ultra ,Droid Maxx ,Moto X ,Electrify M ,Electrify 2 ,Moto G ,Devour A555 ,ATRIX 4G MB860 ,Backflip ,Moto E ,Droid Turbo ,Google Nexus 6 ,
Nokia
 
E71 ,E72 ,N78 ,N81 ,N85 ,N86 8MP ,N900 ,E63 ,800 ,710 ,920 ,Lumia 822 ,Lumia 820 ,Lumia 900 ,Lumia 925 ,Lumia 1020 ,2705 Shade ,Lumia 1320 ,
Samsung
 
Focus SHG-I917 ,Galaxy Indulge ,Galaxy Note ,Galaxy Prevail ,Galaxy S 4G ,Galaxy Note II ,Galaxy S II AT&T ,Galaxy S II T-Mobile ,Galaxy Note 3 ,Galaxy S3 (i9300) ,Infuse 4G ,Omnia II (CDMA) ,R350 Freeform ,Galaxy S3 Mini ,Galaxy S4 Mini ,Galaxy S4 Zoom ,Galaxy S4 Active (i9295) ,Galaxy Ace Plus ,Galaxy Attain ,Galaxy S Blaze 4G ,Rugby Smart ,Admire ,Captivate Glide ,Exhibit II 4G ,Factor ,Focus Flash ,Focus S ,Galaxy Nexus ,Galaxy S II Skyrocket ,Fascinate Galaxy S ,Galaxy S4 ,Stratosphere LTE ,Transfix ,Transform Ultra ,Captivate Galaxy S ,Galaxy S5 ,Galaxy S4 Zoom ,Galaxy S6 ,Galaxy S6 edge ,Galaxy S6 edge + ,Galaxy Note5 ,Galaxy S7 ,Galaxy S7 Edge ,Galaxy S8 ,Galaxy S8+ ,Galaxy Note8 ,Galaxy Note9 ,Galaxy S10e ,Galaxy S10 ,Galaxy S10+ ,Galaxy S10+ ,Galaxy Fold ,Galaxy Note10 ,Galaxy Note10+ ,
...and much more!
Package includes:
• MiniBoom Speaker
• 3.5mm Stereo Auxiliary Cable
• Micro USB Charging Cable
• User Manual
Note: Photos and/or description may differ from actual products. Information from suppliers or packaging.
14327 - Made in China - Speaker - 2999/1800 - TGCP - 14/16
IRN: 633755143274-1800
*************************************
Don't miss this deal!
*************************************