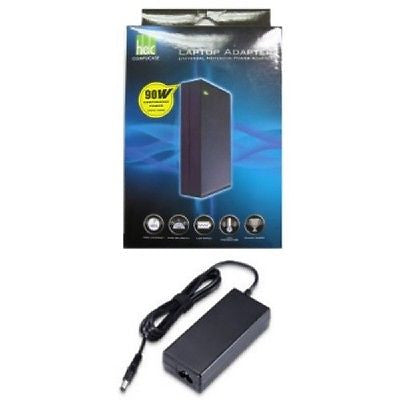 Sale
HEC 90W 19V Universal Notebook Adapter (LA90)
$36.00
was $45.00
HEC 90W 19V Universal Notebook Adapter (LA90)
Description: *** NOTE - This is a NEW item!
Suggested Retail Price: $59.95
Description:
Replacement notebook power adapter

Max Output: 90W

Voltage: +19V

Includes 5 power connectors

Dell charging chip included, suitable for most brands

Adapter will auto shutdown, recovery or duty-limit without damage

L-type generation universal tip design is more durable, and new changeable connector design ensures polarity fool proof and negative plugs to suit most brand name notebook currently in the market

Different voltage to suit most brand name notebooks currently in the market

OPP/OCP/OVP/OTP/SCP protection

High efficiency and true voltage output

Low Ripple/low Noise

100% Hi Pot and High Ambient temperature burn-in test

For 19V or 195V notebooks only

The P-LA90 comes with adapters which work with the following notebooks:

ACER, COMPAQ, DELL, FUJITSU, GATEWAY, ASUS, HITACHI, HP, IBM, NEC, PANASONIC, PHILIPS, SHARP, TOSHIBA, TWINHEAD, VIEWSONIC, WINBOOK, SAMSUNG, SONY, BENQ
Note: Please check the voltage of notebook computer before purchase and use
Made in China
**********************************************************************************
This item will be ship via Canada Post on the Saturday (at the latest) following the reception of payment!
Don't miss this deal!
IRN: 871520007493-4800