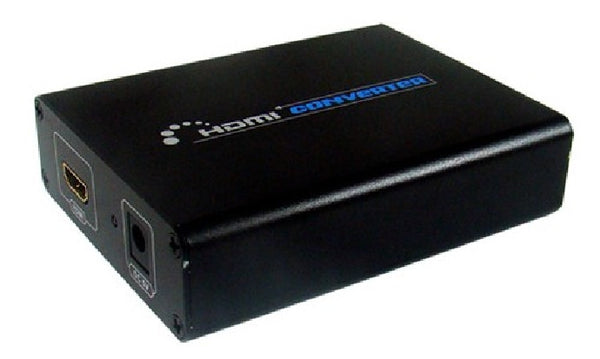 Sale
*** $ave 15% *** HDMI to VGA and 3.5mm Audio Converter - HD Video Processing
$74.80
was $88.00
*** $ave 15% ***
$ale! Save yourself $13.20 on this quality product Hurry limited quantiies in stock!
Now only $74.80
HDMI to VGA and 35mm Audio Converter - HD Video Processing
*** NOTE - This is a NEW item! ***
Suggested Retail Price: $98.99 ~ Price**: $88.00
Description:
HDMI to VGA and 35mm Audio Converter

The HDMI to VGA Converter/Adapter can convert an HDMI digital signal or DVI signal into analog VGA and stereo audio signal With the HDMI to VGA adapter, users can enjoy their high definition image and sound when watching movies or playing games on the older VGA monitors or projectors that don't have an HDMI input
The HDMI to VGA adapter also offers a perfect solutions for digital entertainment center, HDTV retail and show site, HDTV, STB, DVD and Projector factory, noise space and security concerns, data center control, information distribution, conference room presentation, school and corporate training environments
Features:
Improve wireless coverage in all WLAN networks

Access to the Internet for computers located on the edge or outside of the range of your access point

Complies with IEEE 80211n, IEEE 80211g, IEEE 80211b standards

Provides up to 300Mbps transmission rates

Support 24 GHz WLAN networks

Maximum WLAN security with WPA2, WPA and WEP (128/64)

Software wizard for simple setup2dBi antennas integrated

Support Wireless Repeater Mode and Standard AP Mode

Provides one 10/100Mbps Auto-Negotiation Ethernet LAN ports
Specifications:
HDMI to VGA Adapter Features:

Easy to use: installs in seconds, no need of setting

Convert an HDMI digital signal from a HD DVD, Blu-Ray player, PS3, HTCP, HD DV or other HDMI sources to work with an analog VGA display

Convert a DVI or HDMI signal from a desktop or notebook video card to work with an analog VGA display/ projector

This HDMI to VGA Adapter converts an HDMI signal into VGA video and 35mm Stereo Audio output

Audio output format: 2 channel LPCM

Compatible with DVI by a DVI-HDMI cable or connector/adapter

Supports HDCP 12

Compliant with HDMI 13, backward compatible with prior HDMI Version

Supports 165MHz/165Gbps per channel (675Gbps all channel) bandwidth for HDMI Input

HDMIResolutions:480P@60Hz,576P@50Hz,720P@50/60Hz,1080i@50/60Hz,1080P@50/60Hz,800*600@60Hz,1024*768@60Hz

DVI resolutions: 80

0*600@60Hz,1024*768@60Hz

VGA resolutions: 640*480@60Hz,720*576@50Hz,1280*720@50/60Hz,1920*1080@50/60Hz,800*600@60Hz,1024*768@60Hz

NOTE:

1)This device is not a scaler but only a converter This means that the resolution of the incoming HDMI video signal is the same as the output signal and the VGA input of the display MUST MATCH the HDMI resolution for optimum picture quality

2)This device is an HDMI to VGA adapter as its input is HDMI and can't be used in reverse
Package contents:
1 User Manual (English Only)
Note: Product packaging may vary from pictures
1004 - Made in China
*************************************
Don't miss this deal!
*************************************
IRN: 605829010041-8800