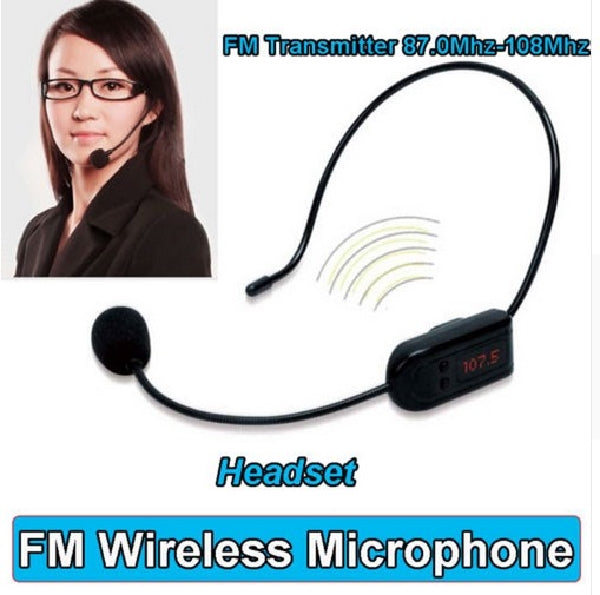 Sale
FM Wireless Microphone Headset - FM Radio Multi-Channel Microphone - Black - 104797
$19.00
was $22.00
FM Wireless Microphone Headset - FM Radio Multi-Channel Microphone - Black - 104797
*** NOTE - This is a NEW item! ***
Suggested Retail Price: $28.95 ~ Price**: $24.00
Description:
FM Wireless Microphone Headset Megaphone Radio Mic for Loudspeaker Carry this with you everywhere and your ready to use as long as there is a radio near you!
Easy operating steps to use your microphone!
1 Switch on the main power supply of microphone, and the Screen will display radio station band number
2 Press the"+" "-" key to adjust the radio frequency, and choose a band number between 875MHz~108MHz (Note: Select the number that it dose not exit in local radio frequency bands, for example 897)
3 Turn on the machine that with FM radio function, stretch antenna and tuned to FM radio mode, tune radio frequency into the same with the number of display And you can use the Wireless microphone after the machine matching pair with the ratio frenquency
4 Put the Microphone on your head and speak into the microphone, you can amplificate your voice
Features:
High-definition digital tube display frequency, makes operation more easy and convenient

The built-in polymer battery, not only can be used repeatedly charging, and light weight use safety

A single Charge , can always use more than 10 hours, long battery life!

Super multi-channel optional, will not interfere with each other 200 optional channel!

There is no limit on the amplification products, mainly to accept FM radio signals and electronic equipment with audio playback function can be used instantly into a megaphone

Small and exquisite, portable, amplification function anytime and anywhere

Widely used: teaching, tour guide, sales promotion, lectures, meetings, karaoke, fans singing and so on purpose

The use of a single wireless FM microphone, can make two hundred loudspeaker devices and public address broadcast at the same time, think about what the situation
Specifications:
Model Number: 104797

Set Type: Single Microphone

Communication: Wireless

Transducer: Condenser Microphone

Use: Conference Microphone

Polar Patterns: Omnidirectional

Transmission frequency: 870 Mhz to 108Mhz

Style: Microphone Headset

Item: Wireless microphone

Type: FM Wireless Microphone

Feature: Radio Mic for Loudspeaker

Color: Black
Package contents:
FM Wireless Microphone Headset - Black - Bulk - No Instructions included with product
Note: Photos and/or description may differ from actual products Information from suppliers or packaging
104797 - Made in China
*************************************
Don't miss this deal!
*************************************
$16.00$18.00