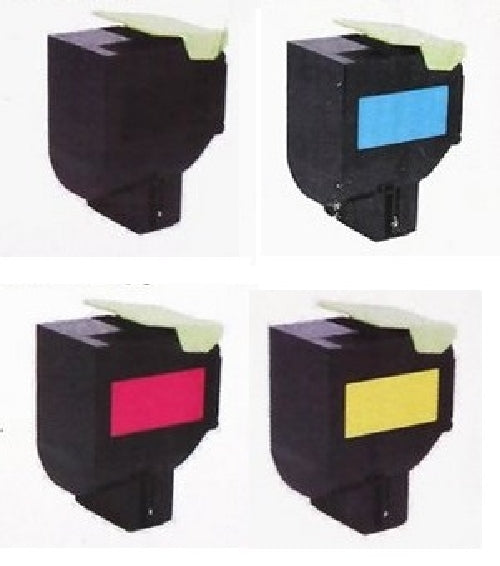 Sale
Compatible with Lexmark 80C1H BK/C/M/Y Remanufactured ECOtone Combo Pack - 4 Cartridges
$309.60
was $386.96
Product:
Compatible with Lexmark 80C1H BK/C/M/Y Remanufactured ECOtone Combo Pack - 4 Cartridges
Description:
Toner cartridges 100 % remanufactured in Canada by our qualified team of experts in accordance with the following standard.
Made from original empty cartridges only

Raw material mainly made in North America

Up to 200 print test pages per cartridge fabricated

Factories STMC certified
Why pay more!
Enjoy compatible remanufactured laser cartridges.

They contain at least as much ink or toner as original manufacturer products. Indeed many ink cartridges and laser cartridges contain much more ink or toner.
*-*-*-*-*-*-*-*-*-*-*-*-*-*-*-*-*-*-*-*-*-*-*-*-*-*-*-*-*-*-*-*-*-*-*-*-*-*-*-*-*-*-*-*-*-*-*-*-*
Features:
*** FOR USE WITH ***
Lexmark
Lexmark CX410de

Lexmark CX410dte

Lexmark CX410e

Lexmark CX510de

Lexmark CX510dhe

Lexmark CX510dthe
Specifications:
OEM Models: 801HK / 801HC / 801HM / 801HY / 80C1HK0 / 80C1HC0 / 80C1HM0 / 80C1HY0 / 801H / 801
Color: Black / Cyan / Magenta /Yellow
Quantity: 4 Toner Cartridge
Condition: New Remanufactured
Shelf Life: 2 Years
Type: Toner Cartridge
Yield: Black- 4000 pages - C/M/Y-3000 pages
Package includes:
1x 

Remanufactured Lexmark 80C1HK0 Black 4K

1x 

Remanufactured Lexmark 80C1HC0 Cyan 3K

1x 

Remanufactured Lexmark 80C1HM0 Magenta 3K

1x 

Remanufactured Lexmark 80C1HY0 Yellow 3K
Note: Photos and/or description may differ from actual products. Information from suppliers or packaging.
RLEX801Hx / 80C1HK0 / 80C1HC0 / 80C1HM0 / 80C1HY0 - RLEX-801HK / RLEX-801HC / RLEX-801HM / RLEX-801HY - Made in Canada - Toner - Remanufactured - 38696/34400 - TGCP - 22/28
IRN: 628132009304-8600 / 628132009298-8600 / 628132009311-8600 / 628132009328-8600 / Combo-30960
*************************************
Don't miss this deal!
*************************************