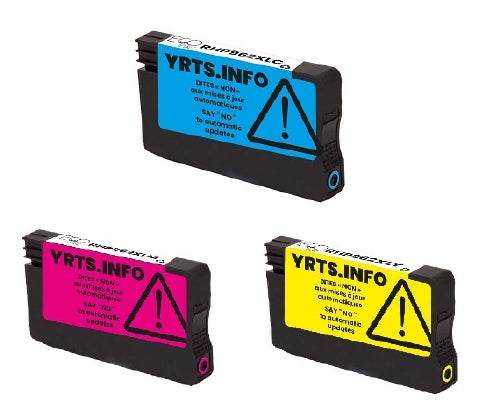 Sale
Compatible with HP 962XL Cyan/Magenta/Yellow Rem. ECOink Combo Pack - 3 Cartridges
$56.00
was $84.00
Created by TiGuyCo Plus
Product:
Compatible with HP 962XL Cyan/Magenta/Yellow Remanufactured ECOink Combo Pack - 3 Cartridges
Description:
NOTE: Cartridges not working with HP+ printers (InstanInk), which ends with the letter E
Why pay more!
Enjoy compatible remanufactured or compatible ink cartridges.

They contain at least as much ink or toner as original manufacturer products. Indeed many ink cartridges and laser cartridges contain much more ink or toner.
ECOInk
Remanufactured ink jet cartridges sourced from the best manufacturers in America.
Remanufactured cartridges come from original empty cartridges only

Patented cartridge using the highest quality standards

Top quality ink

Cartridge indicating ink level when available

Pigmented ink whenever available

Products made by ISO 9001/14 001 certified factories
*-*-*-*-*-*-*-*-*-*-*-*-*-*-*-*-*-*-*-*-*-*-*-*-*-*-*-*-*-*-*-*-*-*-*-*-*-*-*-*-*-*-*-*-*-*-*-*-*
Suggested Retail Price: $110.97 ~ TiGuyCo Plus Price**: $87.00
$AVE 15% on this Combo Pack
Combo Pack Special: $73.95 - Limited Tine Offer!
Individual Cartridges
HP 962XL - Cyan, Magenta, Yellow - Suggested Retail Price: $36.99/ea ~ TiGuyCo Plus Price**: $29.00/ea
Features:
Quality compatible cartridges

Ultimate printing experience
Specifications:
*** FOR USE WITH ***
HP:
HP OfficeJet Pro (IMPORTANT: Work with these printers if not registered HP+)
HP OfficeJet Pro 9010

HP OfficeJet Pro 9015

HP OfficeJet Pro 9016

HP OfficeJet Pro 9018

HP OfficeJet Pro 9020

HP OfficeJet Pro 9022

HP OfficeJet Pro 9025

HP OfficeJet Pro 9028
IMPORTANT
Cartridges not working with HP+ printers (InstanInk), which ends with the letter E as follow:
OfficeJet 9012e, OfficeJet Pro 9010e, OfficeJet Pro 9014e, OfficeJet Pro 9015e, OfficeJet Pro 9016e, OfficeJet Pro 9018e, OfficeJet Pro 9019e, OfficeJet Pro 9020e, OfficeJet Pro 9025e, OfficeJet Pro 9028e, etc.
OEM Model Codes: 962XL / 3JA00AN / 3JA01AN / 3JA02AN
Color:  Cyan / Magenta / Yellow
Quantity:  3 Ink Cartridges
Condition:  Compatible
Shelf Life:  2 Years
Type:  Ink Cartridge
Yield:  Colors Up to 1,600 Pages at 5% coverage
Package Content:
1x HP 962XLC Cyan Compatible Cartridge

1x HP 962XLM Magenta Compatible Cartridge

1x HP 962XLY Yellow Compatible Cartridge
Note: Photos and/or description may differ from actual products. Information from suppliers or packaging.
RHP962XL3PK - Made in China - Ink - NEW - 11097/8700 - TGCP - 18/22
IRN: 628132019945-2900 / 628132019952-2900 / 628132019969-2900 / Combo Pack-7395
*************************************
Don't miss this deal!
*************************************