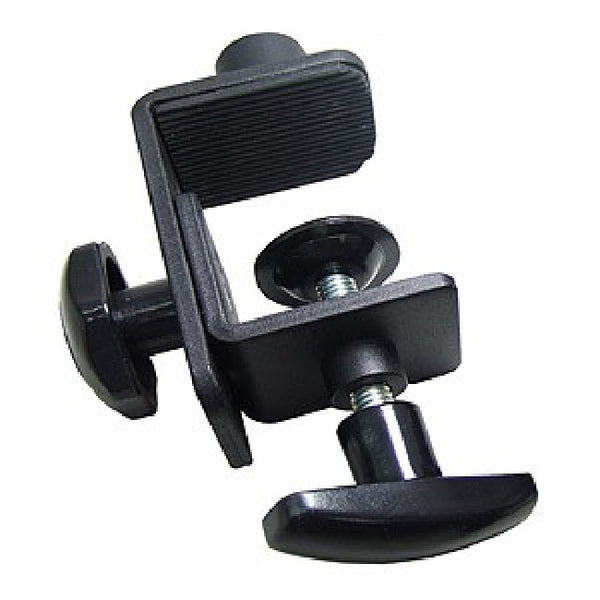 Sale
Bracketron Adjustable C-Clamp - Black - LTM-CC-105
$30.00
was $39.99
Product:
Bracketron Adjustable C-Clamp - Black - LTM-CC-105
Description:
The Adjustable C-Clamp (LTM-CC-105) allows you to take your Mobitron Laptop mount out of vehicle and into the home or office to perform double duty.
The unique two piece design fits together and offers four (4) different positions to accommodate various tabletop thicknesses. The large t-knob screw makes for easy tightening and securing the clamp to the tabletop.
The C-Clamp is designed to work with the Universal Vehicle Laptop Mount for mounting computer LCD monitors in a office environment.
Attaching an LCD monitor is as easy as unscrewing four thumb screws and removing the VESA mounting bracket from the deck. Simply attach the bracket to the computer monitor then attach the post the C-Clamp. You now have a instant monitor stand for your desk or display.
Features and Specifications:
Allows Easy Mounting of An LCD Monitor Display

Rubber Padding Won't Scratch Mounting Surface

Accommodates Various Table Thicknesses

Made Of Heavy Duty 3/16" Steel

One Year Warranty
UPC  874688001198
In-Car Mounts  No
Technology/Application  No
Tools & Accessories  Installation & Mounting, Laptop & Netbook
Mobile Lifestyle  No
Package includes:
Note: Photos and/or description may differ from actual products. Information from suppliers or packaging. Mount accessory only, no tablet or other accessories included. Not Screws Included.
LTM-CC-105 - Made in Taiwan - Mount - Vehicle - NEW - 3999/3000 - TGCP - 14/16
**Indicated price is before taxes. The seller reserves the rights to discount the indicated price on the store invoices or receipts before calculating the taxes.
IRN: 874688001198-3000
*************************************
Don't miss this deal!
*************************************