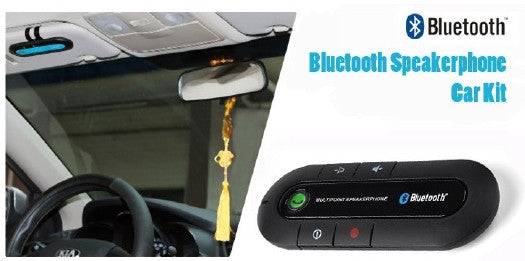 Sale
Bluetooth In-Car Multipoint Speakerphone Visor Car Kit
$30.00
was $34.99
Bluetooth In-Car Multipoint Speakerphone Visor Car Kit
*** NOTE - This is a NEW item! ***
Suggested Retail Price New: $34.99 ~ Price**: $30.00
Description:
The Perfect partner for making calls whilst on the road! Enjoy drive legal mobile use, by using this Bluetooth 30 hands-free visor car-kit Benefits include Full Automatic Pairing between your phone and the kit, and Automatic Connection so when your paired mobile devices comes into range with your kit it will automatically connect - no need to re-pair with the device each time!
It also offers multipoint connectivity, allowing you to pair up to 2 mobile devices simultaneously - perfect if you have a personal mobile and a work mobile or even if you share a car with your partner
With this car kit there is no need for complicated installation - simply clip, connect and drive It simply and easily attaches to the sun visor in your vehicle via a strong magnet and a metallic clip The device can then be transferred between vehicles with ease and the device can be charged without fuss
The Bluetooth In-car speaker phone car kit has Enhanced DSP (Digital Signal Processing) and double noise cancellation to smooth the sound and ensure a clear, crisp call - not only for the person driving, but for the caller at the other end of the line The Audio Enhancing microphone membrane helps to make the sound quality outstanding
The Bluetooth In-car speaker phone car kit has up to 20 hours talk time and up to 1000 hours on standby! So you really can rely on your device and don't need to charge it very often When you do charge the car kit it simply uses the in-car micro-usb charger which comes in the pack, with removable usb cable, allowing the device to be charged in the car or at home via your lap-top or pc
Features:
Bluetooth hands-free kit version 21

Bluetooth V30 + EDR, Class 2

No installation – easily pairs to your phone

Quick clip-on for sun visor

Can be used as a conference speakerphone and handsfree car kit

Compatible with Bluetooth-enabled phones

Supports two devices at the same time

Allows you to manage your calls (answer, end and reject) safely and easily

Voice recognition dialing (if phone supports)

The rechargeable lithium-ion battery can support up to 1,800 minutes of talk time and 6,000 minutes of standby on a full charge!

Built-in high performance speaker and microphone

Superior echo and noise cancellation

Lightweight and portable
Specifications:
Supported Bluetooth profiles: Headset Profile (HSP), Heads-Free Profile (HFP)

Multipoint feature: 2 phones can be paired simultaneously, Automatic pairing

Rechargeable Lithium-Ion battery: 37V DC, 650mAh

Working range: up to 10 meters

Battery charging time: about 3 hours

Talking time: about 20 hours

Standby time: about 1000 hours

Language: English ONLY

Operating frequency band: 24 to 24GHz unlicensed ISM band

Size: 130 x 50 x 15 mm / 512 x 197 x 059 inch

Net Weight: 58 g / 205 oz
Package includes:
1x Bluetooth Speakerphone

1x USB Car Charger

1x USB Cable

1x Sun Visor Clip

1x User Manual
Note: Photos, description and specifications may differ from actual products
00037 - Made in China
*************************************
Don't miss this deal!
*************************************
IRN: 881317514509-3000