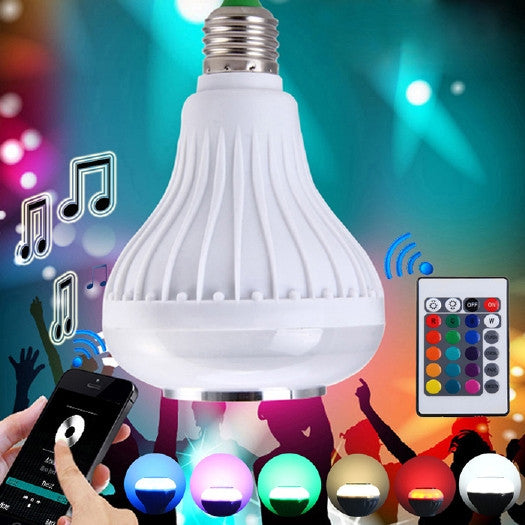 Sale
Bluetooth 3.0 Intelligent Light Bulb E27 - Colorful LED - Bluetooth 3.0 Speaker for Home
$32.00
was $38.00
Bluetooth 30 Intelligent Light Bulb E27 - Colorful LED - Bluetooth 30 Speaker for Home
*** NOTE - This is a NEW item! ***
Suggested Retail Price: $49.99 ~ Price**: $42.00
Description:
Enjoy Wireless Music And Colorful Lights!
It's not always practical or cost-effective to have a sound system in every room of your home If your light bulbs could play music, however, it would kill two birds with one stone Now, this RC light bulb will suit you perfectly, and meet your needs: A LED light bulb with built-in Bluetooth speaker
The colorful LED Bluetooth speaker has a standard E27 cap screw and is designed for use in ceiling light fittings or lamps It is installed in the same way as a standard bulb and pairs via Bluetooth with an accompanying iOS or android app The app allows users to control the audio output of the bulb, including the volume and brightness of the bulb, very convenient to use
Features:
- Bluetooth version: Bluetooth 30
- Bluetooth configuration: A2DP
- Wireless control distance: No less than 10m
- Bluetooth receiver distance: About 10m
- Light color: White + RGB
- Power: 12W ( LED + speaker )
- Speaker power: 3W
- LED light power: White, warm white, RGB
- Input: AC 100 - 240V 50 - 60Hz
- Frequency response: 135Hz - 15KHz
- Shell material: Engineering plastic
- Remote control: 24 keys, built-in 1 x 3V CR2025 lithium button cell
Specifications:
General
Base Type E27
Type Ball Bulbs
Output Power 12W
Emitter Type LED
Total Emitters 1
Voltage (V) AC 100-240
Angle 160 degrees
Lifespan 50000 hours
Features Remote-Controlled
Function Home Lighting
Available Light Color Colorful, White, Warm White
Dimension and Weight
Product Weight 0202 kg
Package Weight 0300 kg
Product Size (L x W x H) 10 x 10 x 14 cm / 393 x 393 x 550 inches
Package Size (L x W x H) 11 x 11 x 15 cm / 432 x 432 x 590 inches
Product Notes:
1 Please check the specifications of the product carefully before ordering to insure a proper fit
2 Do not disassemble any bulbs by yourself
3 Be sure to cut the power off before beginning installation to avoid personal injury
Package Content:
1x

Intelligent E27 Light Bulb Colorful LED Lamp Bluetooth 30 Speaker for Home Stage

1x Remote Control

1x User Manual in English
Note: Photos may differ from actual products!
IE27B - E-B08-A5-103 - Made in China
*************************************
Don't miss this deal!
*************************************
IRN: 143389521954-4200