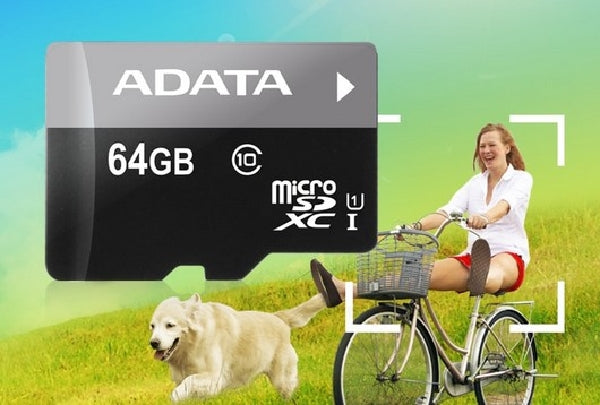 Sale
64GB ADATA Premier microSDXC Card with Adapter - UHS-I - Class-10 - AUSDX64GUICL10-RA1
$11.00
was $16.00
Product:
64GB ADATA Premier microSDXC Card with Adapter - UHS-I - Class-10 - AUSDX64GUICL10-RA1
Description:
With the more frequent use of smartphones and tablet PCs for multimedia recording and playback, there are increasing demands on the read and write speeds of dedicated memory cards. This Premier series memory card implements the latest SDA 3.0 specification UHS-I (Ultra High Speed 1, in compliance with SD 2.0 Class 10 speed), and comes with an entry-level price for consumers who want a dedicated card for their smartphone or tablet PC.
Features:
Increased speed, no increase in cost
Premier microSDHC/SDXC UHS-I Class 10 U1 memory cards have higher capacity, but without a higher price, and provide consumers with the faster read speeds of UHS-I specification at the price of a Class 10 card. Sequential reads are up to 50 MB/second, and write speeds reach the UHS-I speed class 1 specification. They are remarkably suitable for users who enjoy high definition photography and video recording. Running multiple applications simultaneously causes no loss in read/write speed.
* Data is based on internal tests. Test results will vary depending on different platforms and software.
Excellent Durability
These memory cards employ Error-Code Correction (ECC), and are extremely cold-resistant, heat-resistant and impervious to x-rays, making them one of the world's most rugged memory cards.
Wide Range of Capacities
In addition to the 8, 16 ,32 and 64 GB capacity options, a bundle option includes a single memory card and an SD adapter card, allowing for easy transfer of files to and from hardware.
Specifications:
Capacity:  64GB
Standard:  SDA 3.0
Dimensions: (L x W x H)  15 x 11 x 1.0mm (W x H x D)
Weight:  0.25g
Voltage:  2.7~3.6V
Performance:  Seq Read/Write rate up to 50 / 10 (MB/s)**
Random Read/Write: 1400 /100 (IOPs)**
Certifications:  FCC, CE, BSMI, VCCI
Warranty:  Lifetime warranty
Note  **Read/write speed based on ADATA internal testing; performance may be lower depending on host device.
Speed Class:  UHS Speed: Class 1
Speed Class: Class 10
Compatibility:  Smartphone/ Tablet/ Car black box
Operating temperature:  -25°C (-13°F) ~ 85°C (185°F)
Package includes:
1x 64GB microSDXC Card with Adapter
Note: Photos and/or description may differ from actual products. Information from suppliers or packaging. No accessories inlcuded.
AUSDX64GUICL10-RA1 - Made in Taiwan - Memory Card - New - 1999/1400 - TGCP - 16/22
IRN: 413435796842-1400
*************************************
Don't miss this deal!
*************************************