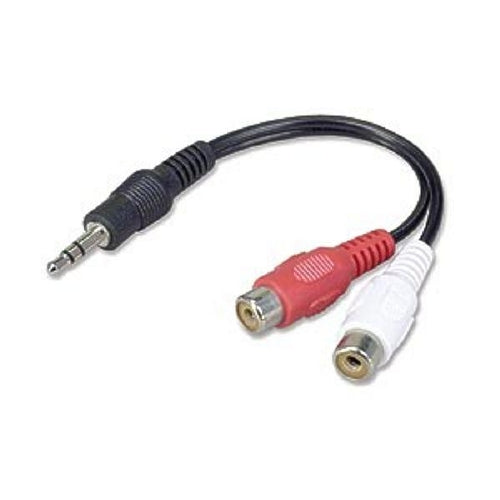 Sale
6in. TechCraft 3.5mm Stereo (M) to 2 RCA (F/F) "Y" Audio Adapter - Black
$5.00
was $6.99
Product:
6in. TechCraft  3.5mm Stereo (M) to 2 RCA (F/F) "Y" Audio Adapter - Black
Description:
This cable is used to connect your iPod, portable CD player, or any audio source with a 3.5mm headphone jack output to your home stereo system or other device with a standard RCA stereo cable or input connectors.
This cable is ideal for converting the stereo signal from a 3. 5mm output jack to separate left and right channel RCA
It has a single 3. 5mm (1/8") TRS male stereo plug on one end and a pair of left/right female RCA jacks on the other end each with molded connector housings and strain relief boots
Features:
Connects your PC's sound card with a mini stereo

Minimizes signal interference with cable shielding

6 inch cable offers easy connectivity, stereo 3.5mm male connector to stereo 2RCA female cable connectors
Specifications:
Converts 1 3.5mm male to 2 RCA females

Audio 3.5mm to 2RCA Cable (Male/Female Connectors)

Connect a video game console to virtually any 2.0 or 2.1 multimedia speakers system

6 inches

Molded Connectors

1-3.5mm Male

2-RCA Female (White/Red)

ROHS

Black Cable 
Package includes:
1x 

6 inches 3.5mm Stereo (M) to 2 RCA (F/F) "Y" Audio Adapter
Note: Photos and/or description may differ from actual products. Information from suppliers or packaging. No other accessories inlcuded.
CSTEREO-A - Made in China - Audio Adapter - 6995/00 - 14/16
IRN: 773070810090-500
*************************************
Don't miss this deal!
*************************************