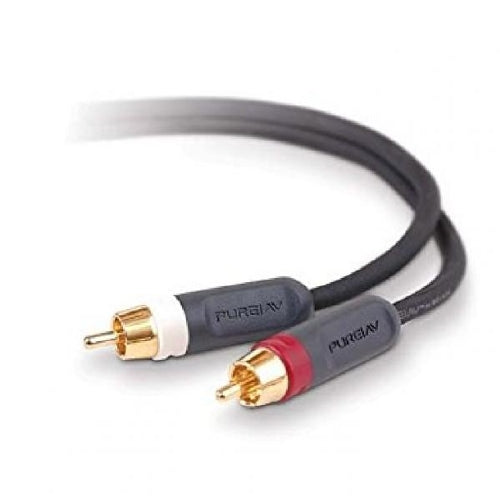 Sale
6ft. Premium RCA Stereo Audio Cable with 2 RCA M/M on Each End - Black
$9.00
was $12.99
Product:
6ft. Premium RCA Stereo Audio Cable with 2 RCA M/M on Each End - Black
Description:
Designed to outperform cables that come with your audio device, Blue Series RCA Audio Cables provide a high-quality RCA connection for better sonic accuracy and more detailed, natural sound. Blue Series RCA Audio Cables use advanced engineering methods and the highest-quality materials to reduce noise and interference and deliver cleaner, natural, more accurate sound from your components.
Delivers better audio clarity and a more natural-sounding midrange with superior-grade, 99.99 percent pure copper conductors

Generates better high frequencies and a more realistic stereo image using precision-formulated, polyethylene dielectric material

Creates precise contact and increased durability with a split-tip center pin and 6-cut, corrosion-resistant, 24k gold RCA connectors
Features:
Provides maximum isolation from electromagnetic and radio frequency interference with double-shielded construction

Isolates noise with 100 percent coverage aluminum/Mylar foil shield

Creates a second layer of protection with tinned, copper spiral shielding

Eliminates the corrosion that is common in bare, copper shielding
Specifications:
Manufacture BELKIN

Brand: TechCraft

Product: RCA Stereo Audio Cable

Product Code: CRCA2-06BKP

Connectors: RCA Male / Male (Color Coded)

Lenght: 6 feet

Color: Black

Manufacturer's Warranty Only
Package includes:
1x

6ft. Premium RCA Stereo Audio Cable with 2 RCA M/M on Each End - Black
Note: Photos and/or description may differ from actual products. Information from suppliers or packaging.
CRCA2-06BKP - Made in China - Audio Cable - NEW - 1299/900 - TGCP - 14/16
IRN: 773070861115-900
*************************************
Don't miss this deal!
*************************************