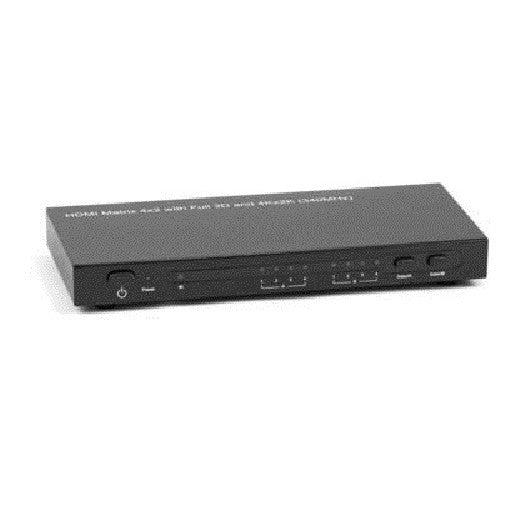 Sale
4x2 HDMI Matrix with Full 3D and 4Kx2K - 340MHz
$68.00
was $111.00
4x2 HDMI Matrix with Full 3D and 4Kx2K - 340MHz
*** NOTE - This is a NEW item! ***
Suggested Retail Price New: $145.99 ~ Price**: $90.00
Description:
The HDMI Switch Splitter Matrix routes high definition video in multiple resolutions up to 4KX2K plus multichannel digital audio from any of the four HDMI sources to two displays
It works with HD-DVD players, Blu-ray DVD, PS3, and satellite set top boxes that connect to two HDMI displays Every source is accessible at all times by any display by selecting it with an IR remote
Features:
Switches easily between any four HDMI sources

Distributes any of the four inputs to any or any combination of the two HDMI output displays

Supports highest video resolution 4KX2K

Supports 340MHz/34Gbps per channel (102Gbps all channel) bandwidth

Supports 12bit per channel (36bit all channel) deep color

Supports HDCP

Supports uncompressed audio such as LPCM

Supports compressed audio such as DTS Digital, Dolby Digital including DTS-HD and Dolby True HD

Support 3D all format, including

1080p@2398/24Hz

,

720p@5994/60Hz/50Hz

, bandwidth up to 340MHz
Specifications:
Signal Inputs/Output

Input Video Signal: 5 Volts p-p (TTL)
Maximum Single Link Range: 4KX2K
Output Video: HDMI
HDMI Input/Output Connector: Type A 19 pin
Operating Frequency
Vertical Frequency Range: 50/60Hz
Video Amplifier Bandwidth: 34Gbps/340MHz
Resolutions(HDTV)
Interlaced(50&60Hz): 480i,576i,1080i
Progressive(50&60Hz): 480p,576p,720p,1080p,4KX2K
Mechanical
Size(H-W-D): 110mmW x 25mmH x 260mmD
Weight(Net): 0854KGs
Environmental
Operating Temperature: 0 ? to +70?
Operating Humidity: 10% to 85 % RH (no condensation)
Storage Temperature: -10? to +80?
Storage Humidity: 5% to 90 % RH (no condensation)
Power Requirement
External Power Supply: 5V <DC@2A
Power Consumption(max): 4 W
Regulatory Approvals
Converter Unit: FCC,CE
Power Supply: CE,FCC
Package includes:
1 x

4x2 HDMI Matrix Switch

AC Power Adapter: US standard

User Manual: English Version
Note: Photos, description and specifications may differ from actual products
5689-HYS-MW006 - Made in China
*************************************
Don't miss this deal!
*************************************
IRN: 888620011480-9000