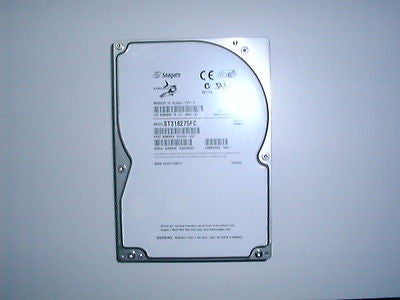 Sale
Seagate Barracuda 18LP - 18.21GB Fiber Channel Hard Drive - USED - ST318275FC
$19.00
was $31.00
Seagate Barracuda 18LP - 1821GB Fiber Channel Hard Drive - USED - ST318275FC
*** NOTE - This is a USED item! ***
Suggested Retail Price New: $39.95 ~ Price**: $25.00
Description:
Anyone out there who knows these babies will have a DEAL! They used to sell for more than 100$ Made by SEAGATE, this BARRACUDA 1821GB fibre channel hard drive can deliver PERFORMANCE

I must sell them as not tested because I do not have the hardware for this The source I purchased it from guaranteed it to be working I have to sell them as is, but this is the last of lot and none have returned or reported as non working!
Features and Specifications:
A few details from the drive label:
SEAGATE BARRACUDA

MODEL: ST318275FC
A few details from SEAGATE Website:
Barracuda 18LP

Capacity: 1821 GB

Speed: 7200 rpm

Average Read Time: 67 ms
Package includes:
1x Seagate Barracuda USED Fiber Channel Hard Drive
Note: Photos and/or description may differ from actual products Information from suppliers or packaging
ST318275FC - Made in Singapore
*************************************
Don't miss this deal!
*************************************
IRN: 235477016500-2500