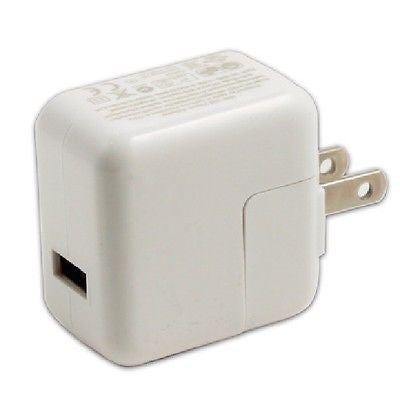 Sale
Travel USB Wall Charger Adaptor for iPad, iPhone, iPod - 10W - 2.1A - White
$17.00
was $22.00
Product:
Travel USB Wall Charger Adaptor for iPad, iPhone, iPod - 10W - 2.1A - White
Description:
Use this ultracompact and convenient USB-based power adapter to charge your device at home, on the road, or whenever it`s not connected to a computer.
You connect the adapter directly to your device USB cable.
Features and Specifications:
Compact, lightweight, portable, stylish, easy to store. Perfect accessory for traveling or at office.

Phone or device can still be used during charging.

Intelligent IC chip inside recognizes a full battery and automatically switches to a saver mode.

With short circuit protection never heats or overcharges the battery.

Need to charge your phone or player at work or when going out of town. Don't bother to unplug the original charger from home. Simply carry an extra handy and light travel charger that powers your phone anytime, anywhere!

World traveler (110-240). The innovative travel charger automatically adjusts to all voltages and frequencies in the U.S., and Asia.

Used with your USB Charging Data Cable ,Compatible with iPod MP3 or any devices charged by USB port.

Input:110v-240 v worldwide voltage Output: 5v 2100mA
Package includes:
Note: Photos and/or description may differ from actual products. Information from suppliers or packaging.
PAD-D017 - Made in China - Charger - NEW - SRP: $27.95 - Our Price: $22.00 - TGCP - 14/16
IRN: 955929307429-2200
*************************************
Don't miss this deal!
*************************************