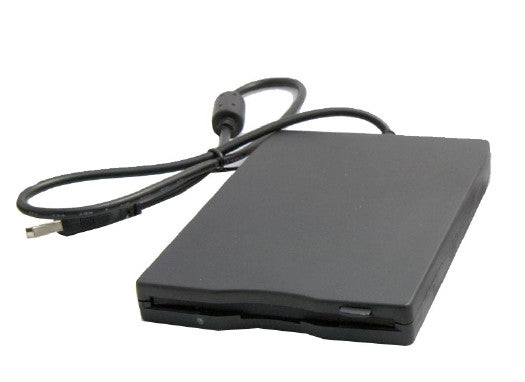 Sale
I/O Crest External USB 2.0 3.5" High Density Floppy Drive - Black
$23.00
was $33.00
Product:
I/O Crest External USB 2.0 3.5" High Density Floppy Drive - Black
Description:
This external USB Floppy Drive supports 3.5" 1.44 MB floppy disks. It can be read and write just by connecting it to a computer. No external power supply is needed for this drive.
Works with desktop and laptop PC equipped with an USB port. Plug the USB end into a USB port and ready to read and write that good old 1.44MB floppy disk.
Features:
USB Connection featuring true Plug and Play

Compliant with USB 1.1 and USB 2.0

Powered by USB port, no extra power supply needed

Dimension: 149 x 103 x 17 mm
Specifications:
Easy Plug and Play Setup

Interface: USB V1.1, Compatible with USB 2.0

Powered by USB Port, No Extra Power Supply Needed

Disk Type: 3.5" High Density

Data Capacity: 1.44Mb

Color: Black

USB Transfer Rate: 12Mbps (Max)

Operating Temperature: 5°C to 35°C (41°F to 95°F)

Humidity: 20% to 80% Non Condensing

Operating Systems:

Window 10

Windows 8

Windows 7

Vista

Windows XP

Windows ME

Windows 2000

Windows 98SE

Metric Dimension (approx.): 149 x 103 x 17mm (Lenght Width Height)

Metric Weight (approx.): 287g

Dimension (approx.): L 8 x W 6 x H 1 inch

Weight (approx.): 0.7 lb
Package includes:
1 x External USB Floppy Drive
Note: Photos and/or description may differ from actual products. Information from suppliers or packaging. No diskette, CD/DVD, software or other accessories inlcuded.
SY-USB-FDD - Made in China - Cables - Drive-Floppy - 4595/3000 - 14/16
IRN: 728280008324-3000
*************************************
Don't miss this deal!
*************************************