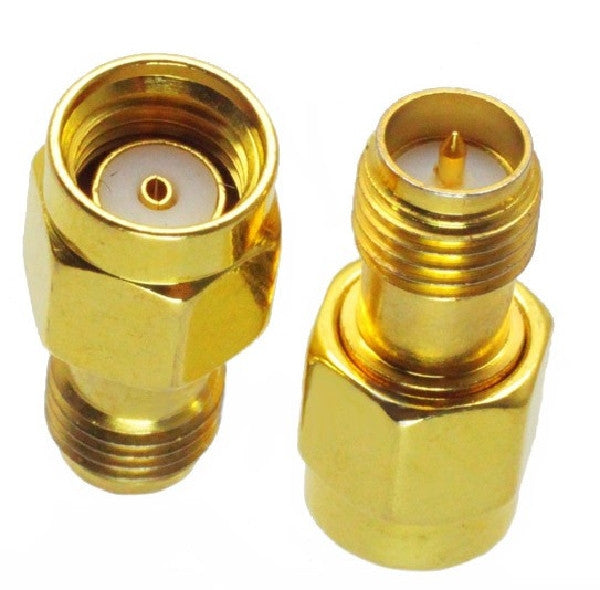 Sale
RP-SMA Male to RP-SMA Female Adapter - Straight - Gold - Pack of 2 Adapters - 41923
$5.00
was $7.49
RP-SMA Male to RP-SMA Female Adapter - Straight - Gold - Pack of 2 Adapters - 41923
*** NOTE - This is a NEW item! ***
Suggested Retail Price New: $7.49 ~ Price**: $5.00
Description:
This RF RP-SMA Male to RP-SMA Female adapter can be used to convert connections to suit your needs
This RF adapter bit is great for anyone looking to change th type of connection they need or doing RF work Depending on the board, antenna or cable you have, you may be faced with either RP-SMA or SMA connectors Unfortunately they are not compatible! This adapter solves the problem with different jacks on one each end that can be match to your needs
Check your cable, connector and antenna to verify whether you need this adapter, or another type In specific, look for the center contact This adapter is likely best used for connecting an antenna to a board, router or to join 2 cables Select your connectors carefully!
Features and Specifications:
Type: Coaxial RF Adapter

Series: RP-SMA-RP-SMA

Plating: Nickel / Gold Plated

Style: Straight

Mounting Type: Free Hanging

Genders: RP-SMA M

ale to RP-SMA Female
Package includes:
2x RP-SMA M

ale to RP-SMA Female

Adapter

- 41923
Note: Photos and/or description may differ from actual products Information from suppliers or packaging
41923 - Made in China
*************************************
Don't miss this deal!
*************************************