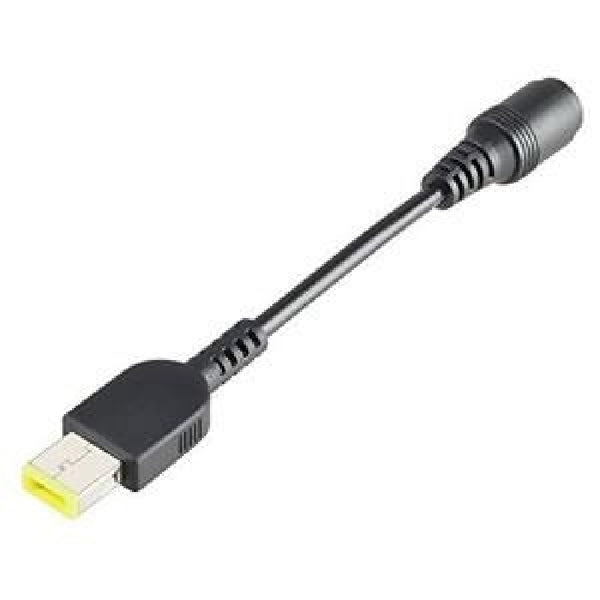 Sale
For Lenovo 7.9 x 5.5 Female to Slim Rectangle Male Power Connector Converter for Lenovo
$10.00
was $12.99
Product:
For Lenovo 7.9 x 5.5 Female to Slim Rectangle Male Power Connector Converter for Lenovo
Description:
For LENOVO - 7.9 x 5.5 Female to Rectangle Male Power Connector Converter
Our AC Adapters have been specifically designed as top quality replacements for laptops, netbooks, and tablets. We have the right replacement adapters for specific models. All AC Adapters are UL Safety Certified to ensure years of safe reliable operation.
Note:
Make sure that you verify your existing and original specifications of AC Adapter to match all the specifications of the adapter you want to order!
Tip size, both outside and inside diametre should match your required specifications

No return is accepted if wrong AC Adapter has been ordered
Features:
Connector A: 7.9 X 5.5 mm (Female)

Connector B: Slim Tip (Male)

Compatible With: Lenovo ThinkPad T440, T440p

Please make sure the Tip Connecter size of the ac adapter are identical to what your need before buying.
Specifications:
Connector A: 7.9 X 5.5 mm (Female)

Connector B: Slim Tip (Male)

Condition: New

Connector Size:: 7.9mm x 5.5mm to Slim Rectagle Square Tip

Compatible with: LENOVO

Warranty: 1 Year

Color: Black
Compatibility (Rectangular Plug Models):
Lenovo IdeaPad Yoga 11S, Yoga 2 11, Yoga 13, Yoga 2 Pro
Lenovo ThinkPad Yoga 14, 15, S1 Yoga 12
Lenovo IdeaPad Flex 10, Flex 2 14, 15, 15D
Lenovo Flex 3 11 1120, Flex 3 14 1470 1480, Flex 3 15 1570 1580
Lenovo ThinkPad Helix, X1 Carbon
Lenovo Edge 15, Edge 2 15 1580
Lenovo Chromebook 11e, N20, N20p, X150E
Lenovo B50, G40, G50, G51, G70, S21e, S41, U31, Y40, Y50 UHD TOUCH, Y70, Z40, Z41, Z50, Z51, Z70: B50-45, B50-70, B50-80, G40-30, G40-45, G40-70, G40-70m, G40-80, G50-30, G50-45, G50-70, G50-80, G70-70, G70-80, S21e-20, S41-70, U31-70, Y40-70, Y40-80, Y50-70, Y50-80, Y70-70, Y70-80, Z40-70, Z40-75, Z41-70, Z50-70, Z50-75, Z51-70, Z70-80
Lenovo Ideapad 500, 500s, S210, S215, S500, S510p, U330, U330p, U430, U430p, U530, Y700, Z410, Z510, Z710
Lenovo ThinkPad L440, L450, L540, S431, T431s, T440, T440p, T440s, T450, T450s, T540p, T550, W550s, X240, X250
Lenovo ThinkPad Edge E431, E440, E450, E455, E531, E540, E550, E555
Lenovo Essential G410, G500, G500s, G505, G505s, G510, G510S, G700, G710
P/N 36200246 36200249 36200251 36200253 36200288 36200292 0A36258 0A36271 0B47030 0B47046 0B47048 0B47455 0B47481 0C19868 0C19880 0C19881 0C19888 45N0257 45N0261 45N0293 45N0294 45N0313 45N0314 45N0321 45N0322 4X20E50558 4X20E53336 ADLX45NLC3 ADLX65NDC3 ADLX65NDC3A ADLX65NDT3A ADLX65NLC3A ADLX65SLC2A ADP-65FDB PA-1650-72 0A36258 0B46994 0B47030 0B47046 0B47048 0B47455 0B47481 0C19868 0C19880 45N0256 45N0264 45N0473 45N0474 45N0475 45N0478 45N0480 4X20E50558 4X20E53336 ADL135NDC3A ADL135NLC3A ADLX45NCC3A ADLX45NDC3A ADLX45NLC3A ADLX65NCC2A ADLX65NCC3A ADLX65NDC2A ADLX65NDC3A ADLX65NLC2A ADLX65NLC3A ADLX90NLC3A PA-1650-72
May also fit other Brand, Make and Models! Check all your specifications and size before placing your order!
Package Content:
1 x 7.9 x 5.5 Female to Rectangle Male Power Connector Converter
Note: Photos and/or description may differ from actual products. Information from suppliers or packaging.
LAP-ADA-LEN-7.9-REC - Made in China - AC Adapter - NEW - 1299/1000 - 14/16
IRN: 607955004994-1000
*************************************
Don't miss this deal!
*************************************