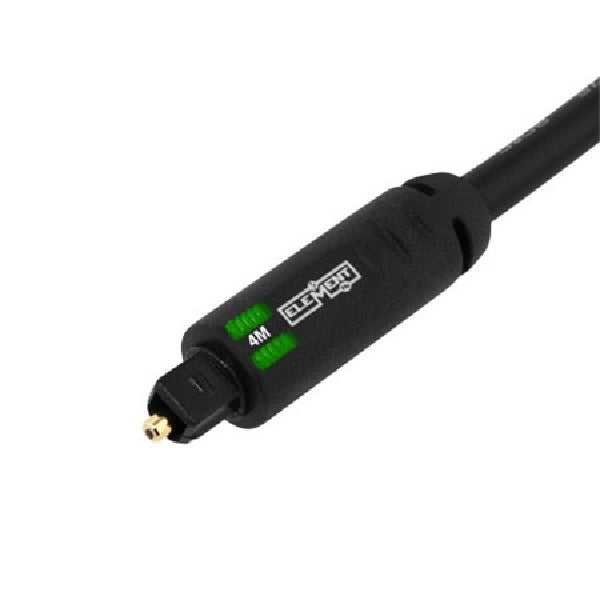 Sale
Element-Hz Digital-Audio Fiber Optic/Toslink Cable 4 Meter (13.12ft) - ELE13004M
$17.00
was $23.00
Element-Hz Digital-Audio Fiber Optic/Toslink Cable 4 Meter (13.12ft.) - ELE13004M
*** NOTE - This is a NEW item! ***
Suggested Retail Price New: $29.99 ~ Price**: $22.00
Description:
This High Grade cable line from Element-Hz brings you the best of what's important and was specifically created for your digital audio demands We've gone the extra mile and then some to create what we think are the best cables on the marketWe made the connectors extra short for those tight installs and we've terminated them with precision-polished fiber for true performance, and like all of our Element-Hz cables they come coloured coded by length for easier identification
If you're looking for that explosive surround sound experience that leaves your ears begging for more, then you're going to need a quality digital interconnect with high bandwidth that's ready to perform and pass those thundering signals Many cables use inferior materials which tend to have small imperfections which can cause distortion and even dropped data Our Element-Hz cables are crafted with a thick fiber PMMA material that's incased in a CL3, UL listed jacket and is guaranteed to outperform your expectations
Flexibility
Our Round PVC Jacket is CL3 Rated and as soft as they come! They're ridiculously flexible and offer a strong strain relief for those sharp 90 degree turns
Inflexibility
Even though we've got a ridiculously flexible jacket, there are some things we're just not flexible on; and that's quality If you were to cut these cables open, you would see that they're made with PMMA fiber & gold plated connectors for uncompromising performance We think you and your customers will appreciate the exquisite

build quality these cables offer
Ziploc® Bags
Ever been on the job and open all your cables up, start to run the cable only to realize you under estimated the cable length? Most cables are packed in standard poly bags, which can no longer be sold as new We listened to the run-ins you've experience in the field That's why all of our Element-Hz cables come bagged in Ziploc

® bags! This simple package alteration allows you to maximize your profits and eliminates the need for B-stock or unwarranted discounts Simply coil the cable back up and use as new
Easy to Stock
There are a lot of options when it comes to cables; so we had to find

creative ways to make things easy for you while on the job…Our connector ends are not only color coded by length which makes distinguishing the difference between a 2 or 3 meter cable easy, but we've also printed the length right on the end of the connector for flawless identification
Smaller is better!
We know you appreciate the little things; that's why we designed the connector body on our cables to be a small & compact as possible to fit into those tight spaces
Features:
Top quality construction

Soft yet strong cover

UL & CL3 rated

Colour coded ends
Specifications:
CL3, UL rated

Black

Optical male - male

4 meter (1312 ft)
Package includes:
Optical Toslink 4 Meter Cable - Black (1312 ft)
Note: Photos and/or description may differ from actual products Information from suppliers or packaging
ELE13004M - Made in China
*************************************
Don't miss this deal!
*************************************