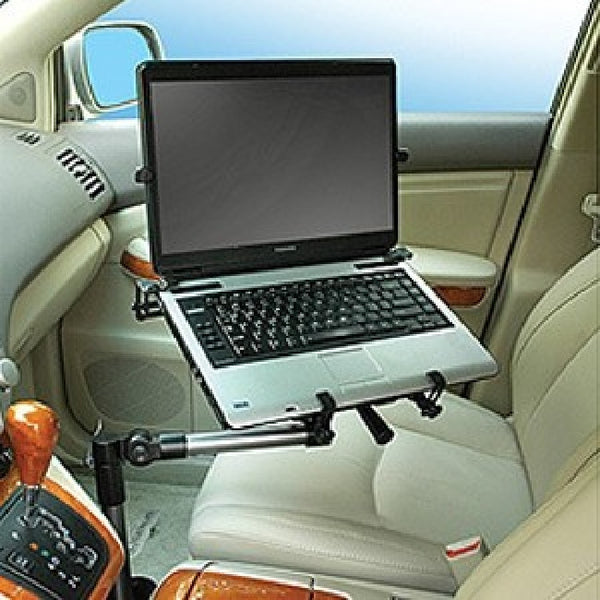 Sale
Bracketron Universal Vehicle Laptop Mount
$229.00
was $279.99
Product:
Bracketron Universal Vehicle Laptop Mount
Description:
The Universal Vehicle Laptop Mount (LTM-MS-525) is a heavy duty in-vehicle computer laptop mount for the computer user on the go.

Designed for the professional road warrior that needs a sturdy and flexible mounting system for their laptop computer.

Our Bracketron laptop mount is made from heavy duty 30mm aluminum tubing and high strength alloy locking joints creating a solid and rugged mount for your laptop.

The Bracketron system secures to the passengers side seat bolt utilizing a quick release fitting. The mount can be remove easily in seconds or just folded and locked in place on the floor, out of the way, and ready for use the next time it's needed.

The quick release telescoping lower arm provides easy adjustment for height and position and also allows the deck to swing out of the way when not in use.

Adjusting the computer angle is controlled easily with the professional Sure-Grip Pan-Head Deck with its convenient one hand locking control lever.

The Bracketron system is great for traveling business people, police and fire departments, field service agents, courier and delivery fleets or anybody that needs a laptop computer in a motor vehicle.

Not included: Optional accessories include the LTM-SA-102 Telescoping Support Brace, the LTM-FM-101 Universal Floor Mount and LTM-CC-105 Adjustable C-Clamp for holding LCD computer monitors on a desk or table. All these items are available at TiGuyCo Plus.
Features and Specifications:
Mounts To Passengers Side Seat Bolt with Universal Seat Bolt Kit

Can Be Removed From Your Vehicle In Seconds

Heavy Duty Locking Joints Adjust For The Best Viewing Angle

Telescoping Lower Arm Extends from 13" to 21"

Cushioned, Adjustable Pan-Head Sure-Grip Deck Holds Laptop Securely

Works best with 10 " to 17" laptops

Quick and Easy No Holes Mounting

One Year Warranty
Package includes:
1x Deck

1x Deck Adjustment Knob

1x Main Support Arm

1x Standard Bracket

1x 90 Degree Bracket

1x Mounting Stud

Mounting Stud Fastening Screw and Wassher

Seat Bolt Extension and Washer

Manual/Instructions
Note: Photos and/or description may differ from actual products. Information from suppliers or packaging. Mount accessory only, no tablet or other accessories included.
LTM-MS-525 - Made in Taiwan - Mount - Vehicle - NEW - 27999/22900 - TGCP - 22/28
IRN: 874688001167-22900
*************************************
Don't miss this deal!
*************************************