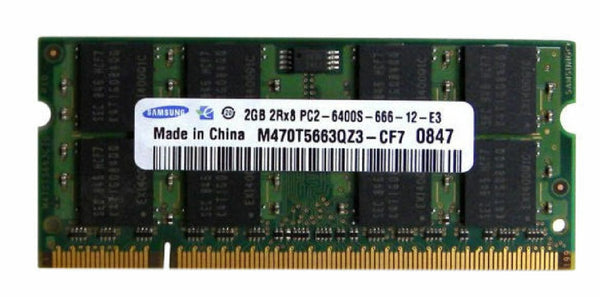 Sale
2GB DDR2 PC2-6400 (666Mhz) SODIMM Memory - Samsung - M470T56663QZ3-CF7
$23.00
was $33.00
Product:
2GB DDR2 PC2-6400 (666Mhz) SODIMM Memory - Samsung - M470T56663QZ3-CF7
Description:
Excellent quality, great value and reliable memory is what we offer. We buy from reputable sources who guarantees the quality of each of their RAM modules, wether it is SDRAM, DIMM or SODIMM, all have been submitted to rigid testing by manufacturer or verified to be working properly by distributor.
We carry new, retail or OEM, refurbished and used (pulled) RAM modules. Just see below for the product your will be getting.
Please note that some systems and motherboard requires specific RAM modules. Make sure you are buying what is required for your specific systems.
Features:
Ideal to upgrade your system

Compatible with most systems and motherboards
Specifications:
Packing Details :  Samsung - For Laptop

Detail Specifications:  - 2GB DDR2 Memory PC2-6400 (666Mhz)

Make: Samsung

Manufacturer Part

#: M470T5663QZ3-CF7

Capacity: 2 GB

Type: DDR2 SODIMM

Bus Type: PC2-6400

Frequency: 666 MHz

Pin Count: 200-Pin

Application: Laptop

*Picture may not be exactly as actual product
Package Content:
Note: Photos and/or description may differ from actual products. Information from suppliers or packaging.
M470T5663QZ3-CF7 - Assembled in China - Memory - 4295/3000 - TGCP - 14/16
IRN: 649528019998-3000
*************************************
Don't miss this deal!
*************************************